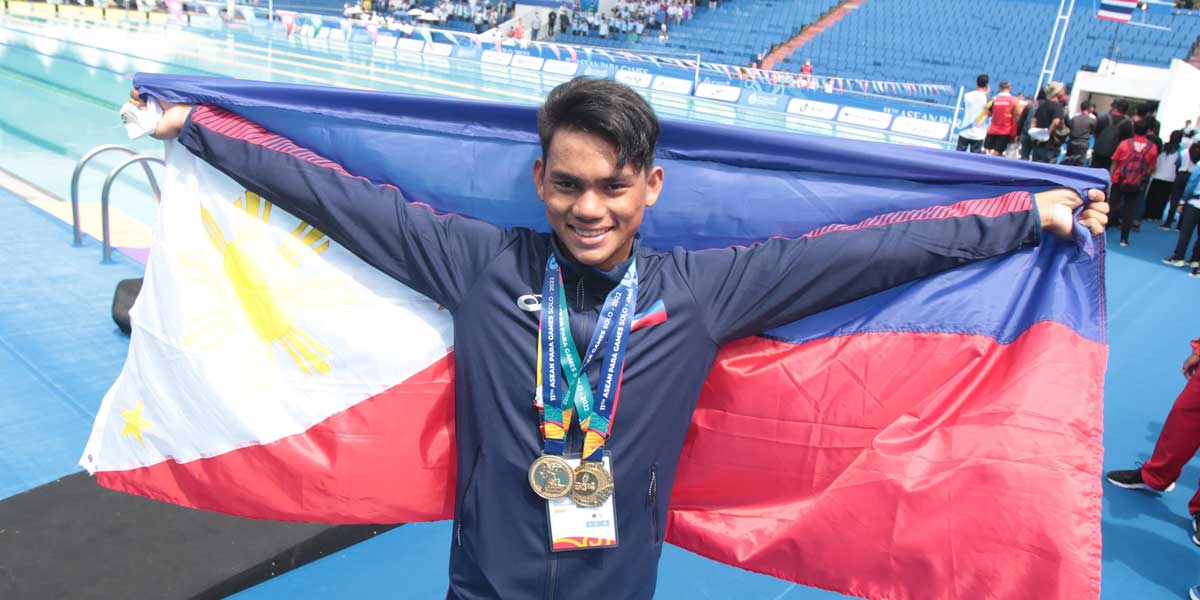 By Leobert Julian A. de la Peña
The Philippine delegation in the ongoing 2022 ASEAN PARA Games continued to haul more gold medals in the sport of swimming and shot put.
Despite being a first-timer in the prestigious sporting event, Ariel Joseph Alegarbes shook off rookie jitters and dominated in the men's 100-meter backstroke S14 and the men's 50-meter butterfly S14 events.
The Filipino swimming sensation clocked in a championship-clinching one minute and 3.01 seconds during the 100-m backstroke event.
Alegarbes went clutch in the last 10 meters of the race and was able to edge Malaysia's Muhammad Imaan Aiman with a finishing time of one minute and 3.20 seconds.
It was a nip-and-tuck battle between Alegarbes and Aiman for the gold as bronze medalist Mrjirachot Chuvong from Thailand had one minute and 11.68 seconds.
Alegarbes capped off his swimming tilt with another gold medal in the 50-m butterfly event and finished with an impressive time of 26.43 seconds.
Meanwhile, in the shot put event, Filipina Cendy Asusano captured the lone gold medal for the PHL team.
Asusano shone brightly during the event and tallied a new personal best score of 5.65 meters, breaking her own record of 5.50 meters set last 2017 in Malaysia.
It was a huge bounce back from the Filipina para-athlete after absorbing a painful disqualification during the discus throw event.
Aside from her shot put supremacy, the Filipina also ruled the javelin throw event on the first day of the PARA Games, besting the other 10 competing nations.