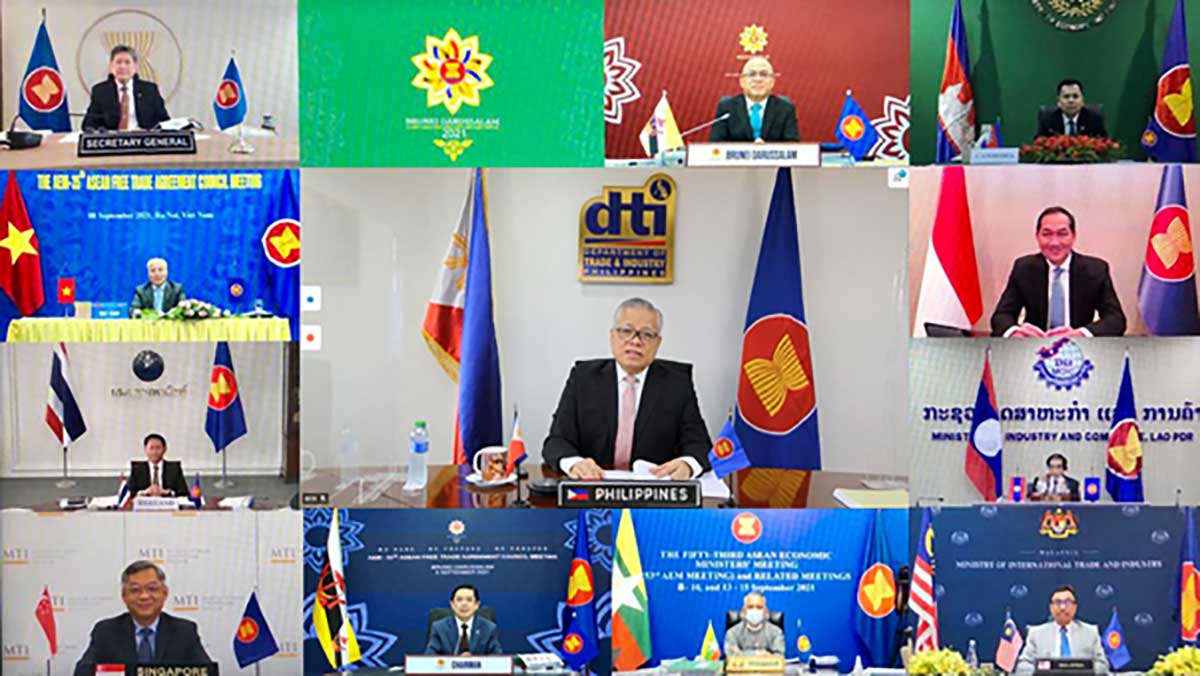 Economic Ministers from the 10-member states of the Association of Southeast Asian Nations (ASEAN) met for the 53rd ASEAN Economic Ministers' Meeting (53rd AEM) through virtual conference on 8-9 September 2021. The Philippines was represented by Department of Trade and Industry (DTI) Secretary Ramon Lopez.
The AEM tackled this year's key deliverables that aim to strengthen the region's economic integration and support post-COVID-19 efforts in line with the ASEAN Comprehensive Recovery Framework (ACRF) adopted in 2020.
"The Philippines joins the ASEAN Community in highlighting the importance of taking a collective course of action to strengthen and enhance economic cooperation to ensure successful implementation of recovery efforts against COVID-19, which has affected our peoples' health and livelihood, and economic activities in the region. As we further implement the ACRF, we call on increased focus on key deliverables that we believe will significantly support economic recovery efforts," said Secretary Lopez.
Among the initiatives endorsed by Ministers include the finalization of Non-Tariff Measures (NTM) Cost-Effectiveness Toolkit, ASEAN investment Facilitation Framework, and Work Plan to Facilitate the Implementation of the ASEAN Agreement on E-Commerce as part of Brunei Darussalam's Priority Economic Deliverables (PEDs) as ASEAN 2021 Chair.
Ministers also welcomed the completion of the Bandar Seri Begawan Roadmap on ASEAN Digital Transformation, Consolidated Strategy on the Fourth Industrial Revolution, and Framework for the Circular Economy which provide the strategic framework to support ASEAN's cross-sectoral work on reaping the benefits of digital trade and achieving sustainable economic development.
According to Secretary Lopez: "We are pleased to endorse Brunei Darussalam's PEDs and commend our senior officials for ensuring that ASEAN is on track with the completion of the other remaining PEDs within the year notwithstanding the challenges we are facing due to the COVID-19 pandemic."
Ministers also engaged with the ASEAN Business Advisory Council (ASEAN-BAC) to discuss COVID-19 initiatives of the private sector and their proposed areas for cooperation in 2021.
The interface emphasized the importance of the timely implementation of the Regional Comprehensive Economic Partnership Agreement in early 2022, as well as cooperation on vaccine procurement and distribution to combat COVID-19 pandemic. Both sides agreed to sit down and discuss how to synergize relevant sectoral bodies in working towards post-pandemic recovery, including vaccination hubs, travel corridor, and digital transformation, among others.
"It is essential that travel and movement across borders is guided by a framework that will minimize the risk of spreading COVID-19. As such, we welcome the recommendation of ASEAN-BAC in concretizing the ASEAN Travel Corridor Declaration made by ASEAN Leaders last year", the PH Trade Chief also added.
The 53rd AEM Meeting was convened ahead of 38th ASEAN Leaders' Summit and Related Summits to be held on 26-28 October 2021 via videoconference.
Secretary Lopez was joined by fellow Economic Ministers from other ASEAN Member States and official representatives from the ASEAN Secretariat.