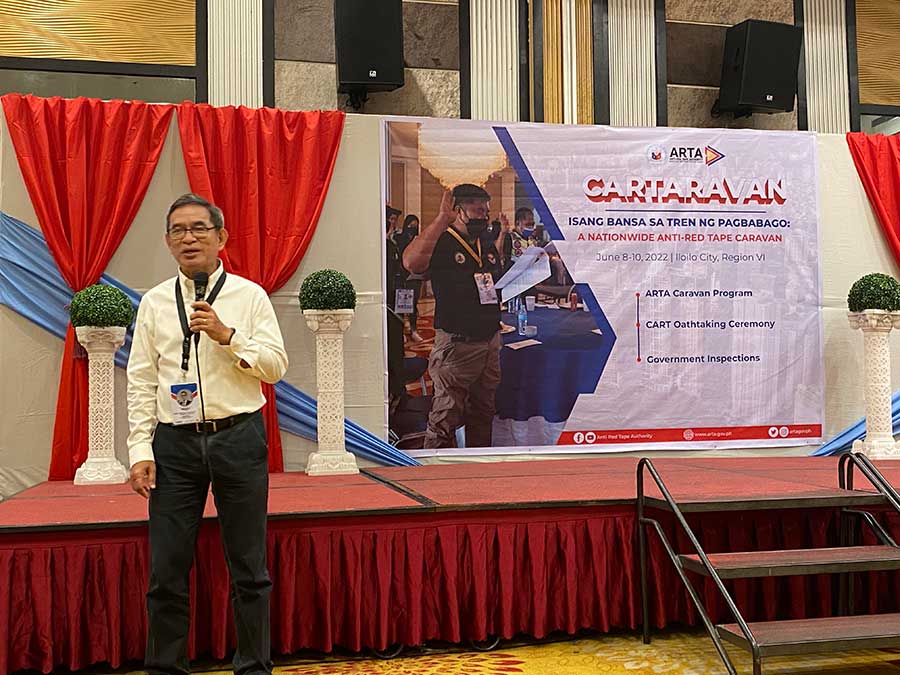 By Joseph B.A. Marzan
The Anti-Red Tape Authority (ARTA) held its nationwide caravan or 'cARTAravan' in Iloilo City on Thursday, June 8, to promote the ease of doing business with, as well as efficient delivery of, government entities and services for the people.
Themed 'Isang Bansa sa Tren ng Pagbabago' (One Nation on the Train of Change), the cARTAvan was conducted to enlighten the public on the ARTA's mandate and functions, as well as its initiatives to eliminate 'red tape' practices in government bodies.
Grace Fernandez, director of the ARTA's Compliance Monitoring and Evaluation Office, lauded Iloilo City for its economic boom in recent years, citing efficient local and regional government services which make for easier transactions.
"The vibrancy of the business economy is linked to how the government administers services to encourage ease of doing business. No wonder, this has been manifested in the inspections we had in various agencies, and local government units in the past days. While there were still things that need improvement, we are pleased that the majority of agencies and local governments comply with the provisions of [RA No. 11032]," Fernandez said.
Undersecretary Ernesto Perez, the ARTA's Deputy Director-General for Operations, discussed the salient provisions of R.A. No. 11032 as well as the ARTA's regulations, including the Citizen's Charter, Philippine Good Regulatory Principles, Regulatory Impact Assessment, Report Card Survey, Zero-Backlog Program, and the Committee on Anti-Red Tape (CART).
RA 11032 or the Ease of Doing Business and Efficient Government Service Delivery Act of 2018 was principally authored by Iloilo 4th district Rep. Ferjenel Biron who will reassume his seat on June 30, 2022.
One of the highlights of R.A. No. 11032 for the public is the "3-7-20" rule for the prescribed time of processing of transactions, referring to 3 days for simple transactions, 7 days for complex transactions, and 20 days for highly-technical transactions, the compliance of which the ARTA monitors and penalizes in case of violations.
More than 100 regular employees of government agencies across the Visayas were sworn in as members of the CART in their respective offices by Usec. Carlos Quita, the ARTA's Deputy Director for Administration, Finance, and Special Programs.
Perez also led visits to entities in the city and province of Iloilo to check on their compliance with Republic Act No. 11032 (Ease of Doing Business Act of 2018).
Within June 8 to 9, they inspected the local governments of Dumangas town and Iloilo City, the Iloilo State College of Fisheries-Dumangas campus, University of the Philippines Visayas-Iloilo City campus, and the Region 6 offices of the Department of Environment and Natural Resources (DENR-6), Department of the Interior and Local Government (DILG-6), and the Land Transportation Office.