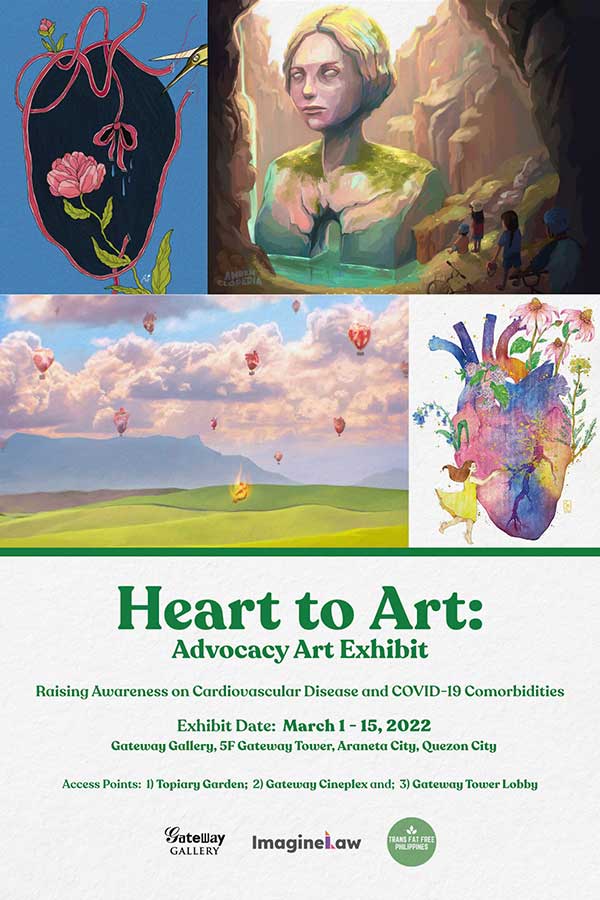 "The artworks in the exhibit prove that heart disease remains to be a prevalent concern for Filipinos. We urge Congress to listen to these stories and heed the need to prioritize citizens' heart health amid the pandemic by enacting the Trans Fat Free Philippines Bill."
This is the call of law group ImagineLaw as they launched the art exhibit entitled, "Heart to Art: An Advocacy Art Exhibit," as part of their campaign for stronger heart health promotion through trans fat elimination.
The exhibit, which will run from March 1 to March 15, 2022, at the Gateway Gallery in Araneta City, Quezon City, features locally crowdsourced artworks depicting heart health and COVID-19 stories and experiences.
Inspired by their personal and their loved ones' struggles against heart disease, participating local Filipino artists told their stories through paintings, mood photographs, and digital drawings. The artists also use their art to call for stronger heart health promotion and preventive healthcare.
"[The painting] See my Heart, shows exactly how colorful life is if we have a healthy heart. Aside from saving many lives and families, promoting heart health can help us combat other lifestyle chronic diseases," said Betsaida Laguipo, one of the exhibiting artists.
Industrial trans fatty acids (TFA) is unsafe as it promotes the build-up of bad cholesterol in the arteries. According to the World Health Organization (WHO), high TFA intake leads to an increased risk of coronary heart disease (CHD), known comorbidity of COVID-19. TFA is found in food items with partially hydrogenated oil (PHO) like baked and fried foods, prepared or pre-packaged snacks, and cooking oils and spreads.
In raising awareness for cardiovascular disease and COVID-19 comorbidities, the exhibit underscores the importance of strong policies and legislation to eliminate TFA. Senate Bill No. 1916 and 1954; and House Bill No. 7200, 7202, 7394, 8093, and 8128, also known as the Trans Fat Free Philippines Bill, is currently pending in Congress. Once passed and enacted into law, the Bill will remove the toxic compound from all types of food sources and is expected to reduce CVD risks.
"More than just numbers and statistics, we want to show how non-communicable diseases (NCDs) like heart disease is a personal issue that affects Filipinos on a personal basis, and why we need regulations to prevent them," Atty. Mary Grace Anne Rosales-Sto. Domingo, ImagineLaw's Project Manager for Healthy Diet emphasized during the virtual exhibit preview.
The exhibit is open to the public daily from 10:00 AM to 6:00 PM at the Gateway Gallery in Araneta City, Quezon City. To know more about ImagineLaw's trans fat elimination advocacy, visit transfatfreephilippines.org.