By Jennifer P. Rendon
Members of the Philippine Army's 12th Infantry Battalion clashed with suspected New People's Army (NPA) rebels in Bingawan, Iloilo early morning of April 7.
The incident happened two days after 12IB troops and NPA members also figured in a gun battle in nearby Janiuay town.
Lieutenant Colonel Jayson Joseph Estrada, 12th IB commander, said the soldiers had earlier received information about the presence of suspected rebels at Barangay Alibadhan. They then patrolled the area to verify the information.
At 2:55 a.m., the soldiers encountered around 5 rebels from the Sentro de Grabidad (SDG) Igabon Platoon. The firefight only lasted for five minutes before the rebels withdrew from the area.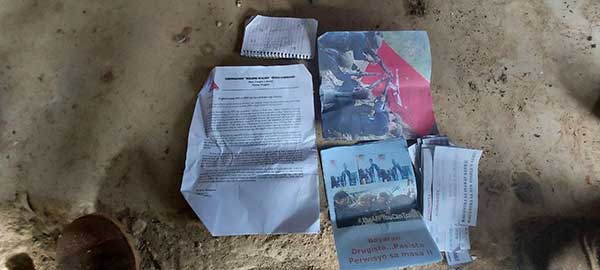 Estrada said no one was hurt from the government side.
After the 12IB troops scoured the area, they were able to recover two homemade 12-gauge shotguns and two magazines with 10 ammunition; a magazine for caliber .9mm pistol loaded with seven ammunition; and four rounds of carbine ammunition.
In haste, the rebels also left behind two backpacks, grocery items; a cooking pot; two hammocks; three slippers; a pair of rain boots; metal square bars that could be used as shrapnel in improvised explosive devices; a 15-meter electrical wire; and propaganda materials.
"We believed that these recent encounters are proof of the people's support to the government and a manifestation that they abhor the armed movement," Estrada said.
The military are still checking on reports that the rebels attended a fiesta at Barangay Alabidhan on Monday and at the nearby Quinangyana village on Tuesday.
On Monday, troops from 12IB thwarted a planned attack against soldiers who are doing Community Support Program (CSP) in Janiuay, Iloilo.
The incident happened around 1:55 p.m. at the hinterland village of Aglobong, around 18 kilometers from the Janiuay town proper.