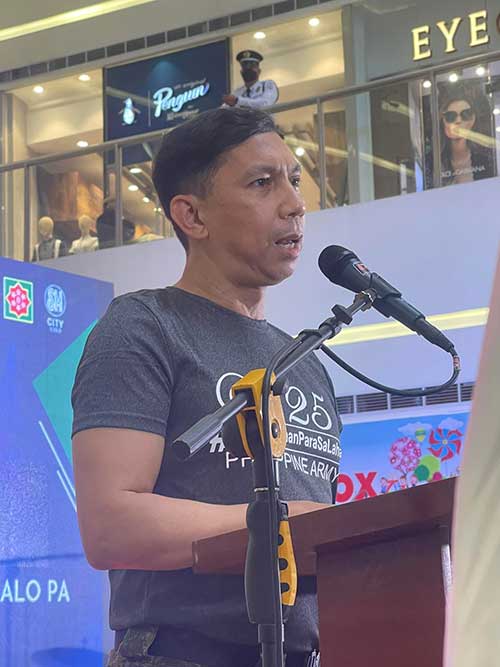 By Jennifer P. Rendon
For the nth time, the Philippine Army stressed that solving insurgency is more than just guns and bullets.
And one way to finally topple down the Communist Party of the Philippines-New People's Army (CPP-NPA) is for politicians to never support the group.
Speaking during the Philippine Army's 125th founding anniversary celebration, Major General Benedict Arevalo, 3rd Infantry Division commander, said they have been doing relentless operations to stop the NPA's extortion activities.
Since it's election period, the NPA rebels might conduct mulcting activities to political candidates.
These are usually done by sending permit to campaign (PTC) and permit to win (PTW) letters.
"But so far, we have not monitored any PTC or PTW scheme in the area," Arevalo said.
By giving in to extortion demands of the CPP-NPA, the 3rd chief reminded politicians that they don't help in the government's effort to end the insurgency problem in the country.
"Kaya sana huwag nila susuportahan dahil hindi natin masusugpo kung may kandidato na sumusuporta sa kanila," he said.
If that happens, "makakabangon sila muli at lumalakas ang kanilang pwersa."
Arevalo said that compared to 5 to 10 years back, the CPP-NPA has dramatically lost their grip in Western Visayas and Central Visayas, the areas of operation of the 3rd ID.
"If I will compare five to 10 years ago, they are practically 20 percent of what they were. Kunti na lang, for as long as nagiging relentless tayo at ang mga programa ng ating gobyerno," he said.
Arevalo was particularly referring to the National Task Force to End Local Communist Armed Conflict (NTF-ELCAC).
"Pinakita ng ELCAC na hindi lang baril at bala ang solusyon. Pinakita ng ELCAC na dapat ang serbisyo ng gobyerno na makaabot sa pinakamalalayong lugar," he said.
Arevalo said that most of the 20 percent left of the NPA force are in Central Panay and some splinters in southern and a few northern and eastern Panay.
That's why, for the remaining months of the Duterte administration, Arevalo said they would do with all their strength and courage to reduce to negligible level, if not totally topple, the local communist organization.
"What's important is the relentless campaign against insurgency until they are totally toppled down. Kung hindi man sila maubos ay humina na sila ng tuluyan," he said.