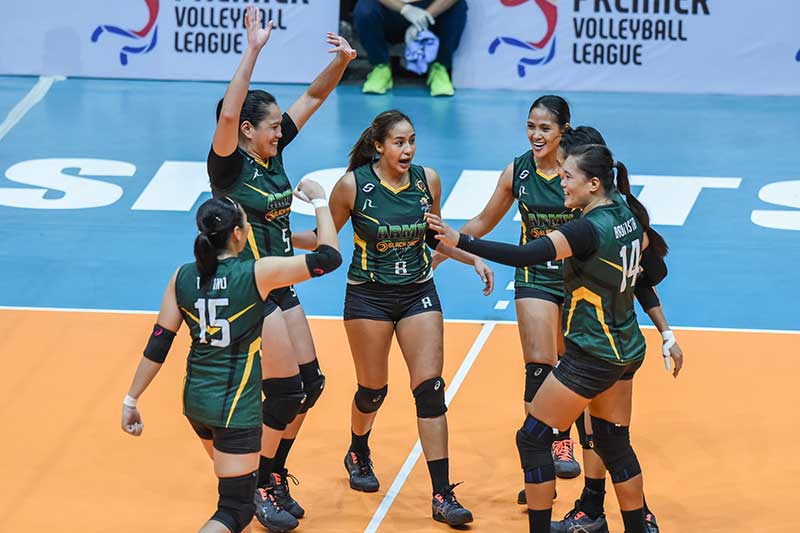 By Leobert Julian A. de la Peña
The Army-Black Mamba squad is having one of its best seasons after taking down the undermanned Choco Mucho Flying Titans, 25-22, 22-25, 26-24, 25-19, in the ongoing 2022 Premier Volleyball League Invitational Conference.
With the huge win, the Black Mamba is currently ranked third with a 2-1 standing and notched its second consecutive victory after outdueling the Petro Gazz Angels during their last match.
Army started the season slow after suffering a four-set loss against the surging Cignal HD Spikers but made it up with two quick wins that increased their chances of punching a playoff ticket.
Veteran setter Ivy Perez took the limelight during the match and orchestrated the Black Mamba offense after dishing out 27 excellent sets with nine points, two blocks, and two aces.
Perez was in her groove against Choco Mucho and set up perfect sets to their spikers Jovelyn Gonzaga, Anne Esguerra, and Nene Bautista.
The Ilongga Gonzaga led Black Mamba's offensive onslaught with 13 points and 19 excellent receptions while Esguerra and Bautista chipped in 10 and 9 points, respectively.
Choco Mucho had to go to battle without Kat Tolentino, Des Cheng, Chery Nunag, and Thang Ponce who were all out due to health reasons.
To make things worse, the Flying Titans lost one of its reliable outside hitters in Aduke Ogunsanya after a bad fall while trying to block Army's spike in the middle area.
Despite dropping the second set, the veteran–filled Black Mamba team regained its poise and went back to their offensive schemes led by Perez's sets.
Choco Mucho attempted to steal the third set led by Ponggay Gaston's clutch hits but a late rally from Gonzaga and Bautista sealed the set on their way to a convincing win.