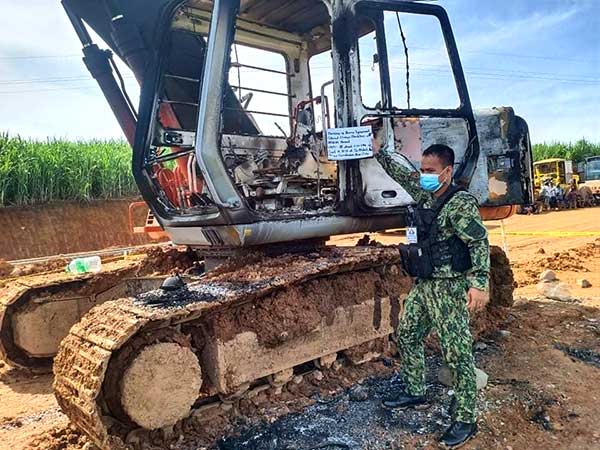 By Glazyl Y. Masculino
BACOLOD City – Police are probing the burning of P3.5 million worth of heavy equipment at Sitio Bulod, Barangay Carabalan, Himamaylan City, Negros Occidental last Saturday.
Police Lieutenant Arturo Margallo Jr., deputy police chief of Himamaylan City Police Station, said four unidentified men arrived at the area around 7 p.m. while he was about to eat dinner.
Margallo said one of the perpetrators called him to go down from the grader while the three others, two of whom were armed, were at a distance.
When he went down the grader, one of the perpetrators told him to stay calm.
"Kalma ka lang tay, indi magpa nerbyos, may mga iban na duta, wala mabayran, katig-a gid abi sang ulo," one of the armed men told the operator who also serves as caretaker of the road project dubbed farm to market road, according to Margallo.
After their conversation, the three other perpetrators burned the backhoe and fled, leaving the operator unharmed, Margallo said.
Margallo said the perpetrators did not directly mention the revolutionary tax, adding that no threat was ever reported to the police from that area.