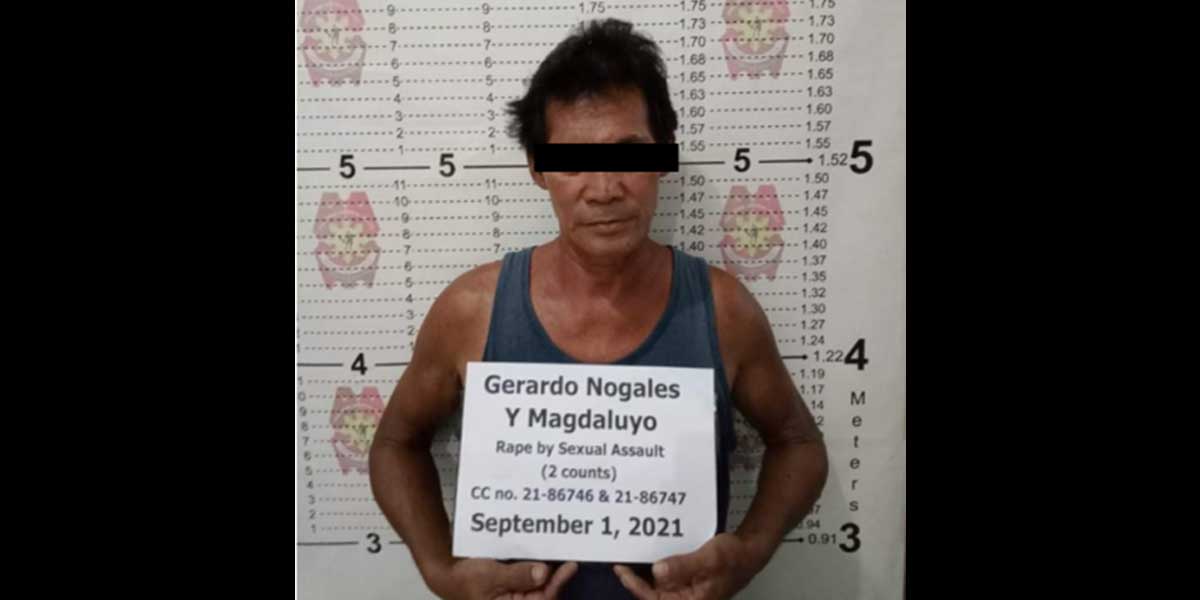 By Jennifer P. Rendon
A butcher is in jail after he was accused of sexually molesting his stepson's daughter several months ago.
Geraldo Nogales, 58, was arrested at his home in Barangay Sta Cruz, Arevalo, Iloilo City around 10:11 a.m. of September 1.
Nogales is listed as the "most wanted man" of Arevalo district.
Members of the Iloilo City Police Station 6 and the Regional Mobile Force Battalion 6 (RFMB-6)'s 602nd Company collared the suspect by virtue of an arrest warrant for two counts of rape by sexual assault docketed as Criminal Case Numbers 21-86746 and 21-86747.
Judge Gloria Madero of the Iloilo Regional Trial Court Branch 29 issued the arrest warrant on Aug. 10, 2021.
A P120,000 bail bond for each case was recommended for his temporary freedom.
Captain Chen Tañagras, ICPS6 chief, said the complainant was 18 years old and the case was filed Feb. 6, 2021.
During his arrest, police learned that Nogales was also the subject of another arrest warrant.
He was also accused of violating Republic Act 7610 (Special Protection of Children Against Abuse, Exploitation and Discrimination Act) docketed as Criminal Case No. 21-86748.
Judge Regina Centenera Galang-Guarin of the RTC Branch 30 issued the warrant on August 16, 2021.
A bailbond of at P200,000 was set for his provisional liberty.
Nogales is now detained for proper disposition of his case.