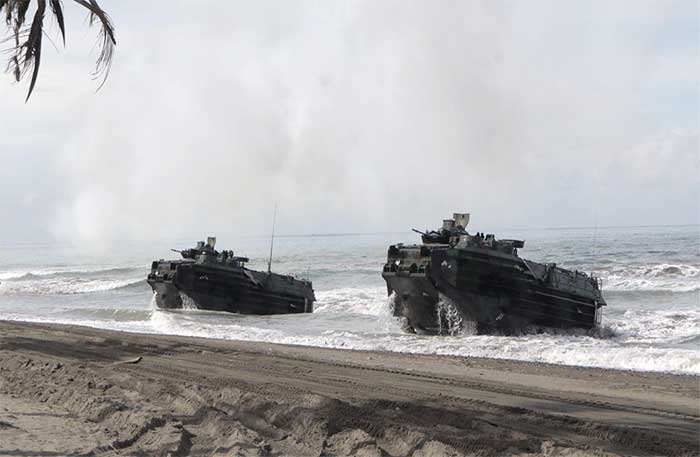 By Marie Andrea Pefianco and Mariane Gabrielle Cagalawan
The Armed Forces of the Philippines' (AFP) Joint Exercises (AJEX) DAGIT-PA 05-21 in Patnongon, Antique on Nov 18, 2021 was dubbed the "most successful and grandiose one," according to the chief of the AFP's Visayas command chief.
Major General Robert C. Dauz said Patnongon hosted the AFP'S joint military exercise due to its strategic location and conducive training ground.
DAGIT-PA meaning "Dagat, Langit, at Lupa" represents the three major military services – Philippine Army, Philippine Air Force and Philippine Army, including AFP Reservists.
The fifth year of the unilateral exercise included a showcase of the amphibious operations and a simulation of defense exercises.
Philippine Army's 3rd Infantry Division spokesperson Capt. Kim Apitong said, "These exercises does not only show the capabilities of the Armed Forces of the Philippines but also integrate and synchronize yung mga assets natin and also to integrate 'yung mga reservists natin."
Apitong added that the exercises are a way to prepare the reservists to be equipped with the skills in combating in case of wars or armed conflicts since they are only limited to relief goods distribution, and medical and technical assistance during the pandemic.
Patnongon Vice Mayor Johnnyflores Bacongallo said that it has been almost 30 years since the town has hosted an event as big as the AJEX. This is the reason why they immediately accepted the responsibility to host the joint military exercises.
Bacongallo said the event is a unique experience for the witnessing residents of the town and province because such drills are commonly limited in the screens.
"Ang mga amo dya nga events, sa sinehan lang natun dya mung," he said. "Nami gid dya nga eksperiyensya sa mga Patnonganon, ilabi ron gid ang nakasaksi kang dya nga event."
Hosting AJEX was a big task for the municipality, given its lack of funds, limited time for preparation, and pandemic restrictions.
According to Bacongallo, regardless of the challenges, they were able to realize the event because of the support from the Local Government Unit (LGU) and the community's collaborative efforts or bayanihan.
The municipality tapped Brgy. Poblacion officials, traffic enforcers, and Citizens Crime Watch (CCW) to assist in the preparations and maintain order during the exercises.
The residents also volunteered to participate in the putting together of plans and construction of the sheds for guests and spectators.
Tanod or village watchman Vincent Placido expressed their fulfillment as one of the people who helped facilitate the event.
"Proud kami nga may amo ja nga activity sa Patnongon kay talagsa lang gid dya matabo kanatun," he said.
After the exercises, the AFP thanked the province and host municipality for the success of AJEX.
"I could attribute that to the hospitality, the warm reception, cooperation ng mga participants natin, especially sa host," Dauz said.