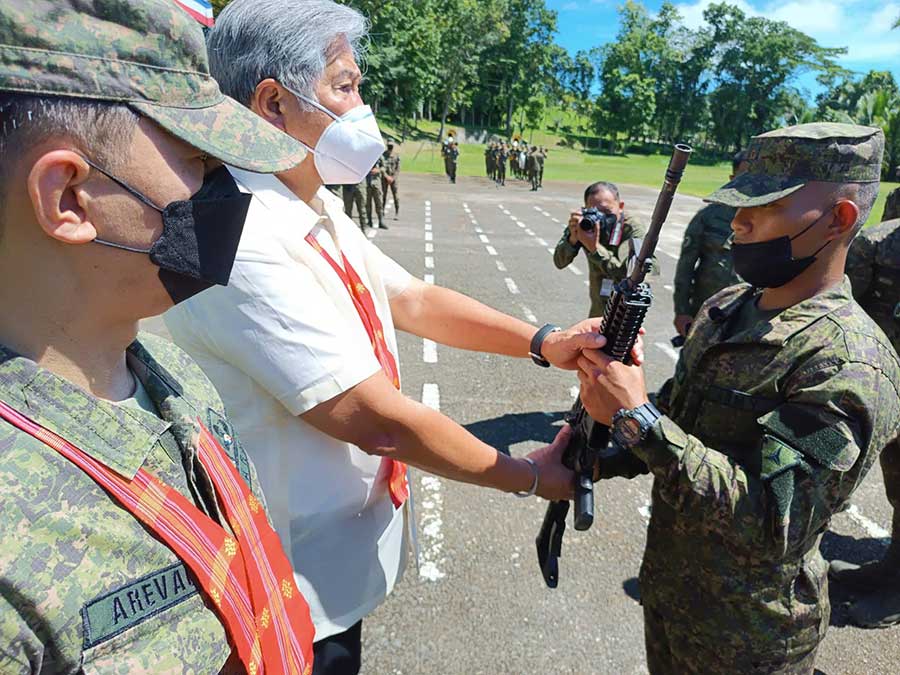 By Jennifer P. Rendon 
Two brothers from Antique have proven that excellence runs in the blood.
Private Maxim Leo Cabigunda and Private Dennis Cabigunda, who hail from Sibalom, Antique, bested 179 candidate-soldiers (CS) of CS Class 689-2021.
The two are part of the 181 soldiers who were formally welcomed into the folds of the Philippine Army's 3rd Infantry Division.
The graduation rite for the new Army privates was held July 14 at the 3rd ID headquarters in Camp General Macario Peralta Jr. in Jamindan, Capiz.
The graduates completed the 7-month rigorous and disciplined Basic Military Training at the 3rd Division Training School.
They were taught the fundamentals of soldiery and instilled with the Army's core values of honor, duty, and patriotism.
Maxim Leo, a 27-year-old Bachelor of Science in Elementary Education graduate, received the Commander 3ID Award for topping the class with a General Point Average of 98.68 percent in all evaluated subjects.
On the other hand, the 30-year-old Dennis, a Bachelor of Science in Criminology, bagged the Chief of Staff 3ID award for ranking No. 2 with a GPA of 87.40 percent in all evaluated subjects.
Private Jecson Moreno, a Bachelor of Science in Criminology graduate from Barangay Camangcamang, Isabela, Negros, Occidental, also received the Commandant 3ID award for placing third with a GPA of 87.24 percent in all evaluated subjects.
Meanwhile, Private Heart Laurente from Barangay Tugas, Mambusao, Capiz bagged the Commander's Physical Proficiency Award with a GPA of 96.33 percent.
The new soldiers also received their R4 Carbine-issued rifles during the entrustment rites, a tradition that symbolizes supremacy of civilian authority over the military.
Mayor Roberto Palomar of Tapaz, Capiz, led the entrustment ceremonies.
He was assisted by Major General Benedict Arevalo, 3ID commander, who also served as keynote speaker during the closing ceremony for the CSC MAILAP Class 689.
"The new graduates have undergone tough physical conditioning, psychological and emotional pressure, and trial of camaraderie that prepared them for their future endeavors as members of the Philippine Army," Arevalo said.
He also reminded the graduates always to remember the 3ID's mantra "Loved by the people and feared by the enemy."
"You should always put in your hearts that you are here to serve our country," the 3ID chief said.