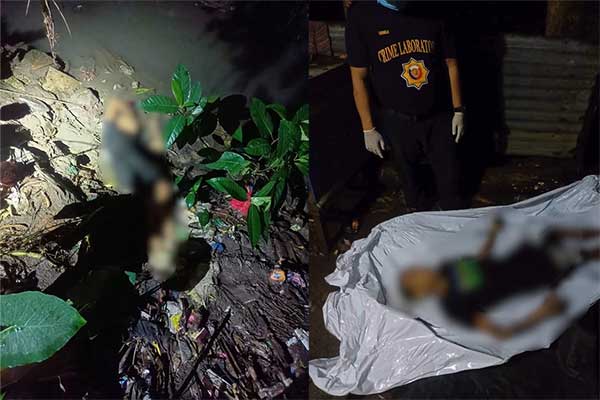 By Glazyl Y. Masculino
BACOLOD City – Policemen are looking at three angles behind the killing of another minor here, this time at Abada Escay, Zone 3 in Barangay Vista Alegre last Thursday.
The name of the 14-year-old victim was withheld. He was the 11th victim in the series of shooting incidents here this month.
The incident happened a day after a 17-year-old boy was also gunned down by a minor, following an argument on solvent or rugby in Barangay Singcang-Airport here last Wednesday.
Police Capt. Elmer Bonilla, head of Police Station 7, said the victim was shot by five unidentified armed men on board an L300 van.
The victim was outside their house when the armed men arrived around 10:35 p.m.
Bonilla said the victim ran upon seeing the perpetrators, but the suspects chased and eventually caught up and shot him.
"Without any provocation, gin tiro lang ining biktima," the station commander added.
Bonilla said the armed men shot the victim several times, until he fell into a creek, where he was believed to have been shot again.
The perpetrators, who were wearing bonnets, then left after the incident on board the same vehicle, as seen on a closed-circuit television (CCTV) camera footage.
Police recovered from the scene empty cartridges of .45 caliber ammunition and carbine rifle.
Bonilla said they are looking into the case as drug-related, since the victim's father was jailed for a drug offense, and his uncle was also previously jailed for a drug offense and murder case.
Aside from that, Bonilla said the suspects may have mistaken the victim for his uncle because they have the same body build.
"Basi bala ang tiyo ang target pero kay daw pareho sila panglawason kag siya ang nakita dayon, kay iya tatay ara man sa Bureau of Jail Management and Penology (BJMP)," he added.
Bonilla said they are also looking into conflict between two families. "Ining bata abi may nakaaway ni sa basketball daw then nag intra na ang family, basi bala nag balos ang pihak pero gin settle na sila sa barangay daw," he added.
He said it's possible that someone may have grudges against the victim or his family, considering that he suffered multiple gunshot wounds in the body.
"Indi na lahog-lahog, possible may kaakig ni ang naghimo kay well-planned," Bonilla said.
Meanwhile, Bonilla said they have no lead yet on the perpetrators, as the CCTV failed to capture the car plate and the area was dark.
"Medyo dulom abi tapos nakabonnet pa sila (gunmen)," he added.
This is the third shooting incident this week, and the second case this month involving a minor.
Police Stations 2, 3, 4, 5, 6, 7, and 9 here each recorded one shooting incident, while two shooting incidents were recorded each in Police Stations 1 and 8. Only Police Station 10 has no recorded case of shooting yet.
For his part, Police Lt. Col. Sherlock Gabana, public information officer of Bacolod City Police Office (BCPO), said the two shooting incidents involving minors had different motives.
"Ang sa Singcang, rugby, ang kagab-i, daw ga runner-runner na abi ining biktima kuno," Gabana said.
With these incidents, Gabana said that it is the parents' responsibility to ensure the safety of their children as the city observes curfew for minors.
"Bisan ano kasaway sang police, pero kung gapabaya man ang ginikanan, ma balik-balik lang gihapon," Gabana said.
He noted that police are doing their best to ensure the safety of the public.
"Wala man ta gapabaya. Ga recorida na ta, ga patrol, pero daw ka hapos na lang sa mga kabataan maghimo man sang ila armas," Gabana said.
On the other hand, Gabana said that police are open for investigation if they are being suspected of having a hand in the incidents.
"Kung may alleged involvement, imbestigahan ta kay wala ta man gina-tolerate ina," Gabana said.