By Jennifer P. Rendon
Another former convicted criminal was arrested in a police anti-narcotics operation morning of March 15, 2022 in Lapuz, Iloilo City.
Jun Diestro, 44, was arrested in front of his house at Forestry Drive Villa, San Lorenzo, Barangay Loboc, Lapuz district.
Members of the Regional Police Drug Enforcement Unit (RPDEU)-6 and the Iloilo City Police Station 2 arrested Diestro after he allegedly sold a sachet of suspected shabu for P8,600.
Police operatives also recovered 24 sachets of suspected shabu, the P8,600 buy bust money, P4,500 cash, and several non-drug items.
Lieutenant Colonel Mark Anthony Darroca, RPDEU-6 chief, said the seized shabu weighed around 120 grams and was valued at P816,000.
RPDEU-6 records listed Diestro as a high value individual (HVI) drug personality.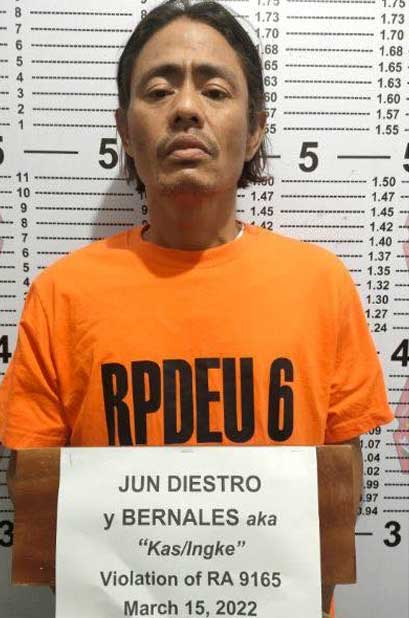 He claimed to be the estranged husband of Anna Prevendido, a regional drug personality of the police.
He was arrested twice for the same offense. The first arrest was in 2008 but the case was dismissed in 2018. His second arrest was in 2019 but he was released from incarceration a year later after availing of the plea-bargaining agreement.
Darroca claimed that Diestro has been trading illegal drugs in Iloilo City and some areas of Iloilo province. He allegedly disposes some 300 to 500 grams of shabu per week.
"That could mean a gross income of around P4 million in a week," Darroca said.
Just like previous HVI drug personalities, Diestro also got his supply from Jovern Abantao, a big-time drug personality who is jailed at the New Bilibid Prison.
Police had been keeping an eye on Diestro since August 2021. But the suspect said he had to lay low for a while. He again went back in business in December 2021.
"He's been bragging to his contacts that he couldn't be easily arrested," Darroca said.
Police monitored that Diestro was hooked to cockfighting.
In a day's cockfighting, his gambling loss is pegged at P100,000 to P200,000.
"Maski pauwak lang, amo na kadako mapa-pierde n'ya," Darroca said.
A month ago, the RPDEU-6 revealed that they have been keeping a tight watch on convicted criminals, as part of their anti-illegal drug campaign.
Darroca noted that there is a high probability that former convicts, especially those who were jailed for illegal drug-related offenses, are likely to get back to the trade once they get out from incarceration.
The RPDEU-6 noted that a good number of arrested drug personalities are individuals who served jail time and were only released after availing of the plea-bargaining agreement.
Under the plea-bargaining scheme, an accused may be allowed to plead guilty to a lesser offense. The procedure was useful in decongesting court dockets and detention facilities in the country.