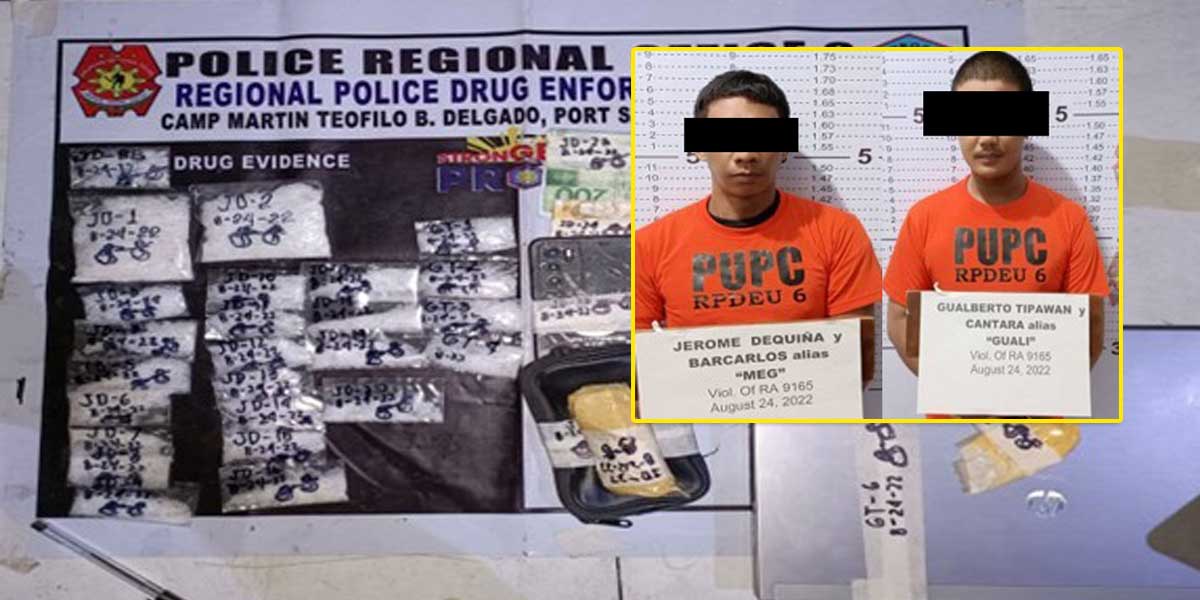 By Jennifer P. Rendon
Another job hire of the Iloilo City government and his friend were nabbed in a police anti-narcotics operation evening of Aug 24, 2022 in Pavia, Iloilo.
Jerome Dequiña, who claims to be working for the Iloilo City Task Force on Anti-Squatting and Illegal Structures (TF ASIS), allegedly connived with his friend Gualberto Tipawan in selling a sachet of suspected shabu for P11,000 to a police undercover agent.
Both Dequiña, 34, of Barangay Buntatala Jaro, Iloilo City and Tipawan, 32, of Barangay Nabitasan, La Paz, had no prior arrests or offenses.
Members of the Regional Police Drug Enforcement Unit 6 (RPDEU-6) and the Pavia Municipal Police Station collared the duo after the trade-off at Purok 4, Felix Gorriceta Avenue in Barangay Pandac.
Recovered from their possession were 27 sachets of suspect shabu, the P11,000 marked money, two Android mobile phones, a motorcycle, a laptop, P800 cash, and several non-drug items.
Lieutenant Glenn Soliman, RPDEU-6 chief, said that the seized illegal drugs weighed around 200 grams and were valued at P1.360 million.
Dequiña, who was tagged as an alleged high-value individual (HVI), was the target of the operation.
Soliman said Dequiña has been placed in police monitoring following the arrest of two other job hires in a buy-bust operation at La Paz, Iloilo City in April 2022.
During the police interrogation, Jerson Sonon, 37, and Reydan Eribal, 38, both residents of Zone 7, Barangay Buntatala, Jaro, Iloilo City, revealed that they were getting their supply from Dequiña.
"We had a hard time convincing Dequiña into selling shabu because he usually offers the illegal drugs to persons he knew," Soliman said.
Police believe that the suspect had just gotten his supply when police made the arrest.
Dequiña also established his connection with the group from the New Bilibid Prison (NBP) through Messenger.
Once his order is approved, the supply was usually handed to him in a mall.
Dequiña and Tipawan are now detained and will be charged with violation of Republic Act 9165 (Comprehensive Dangerous Drugs Act of 2002).