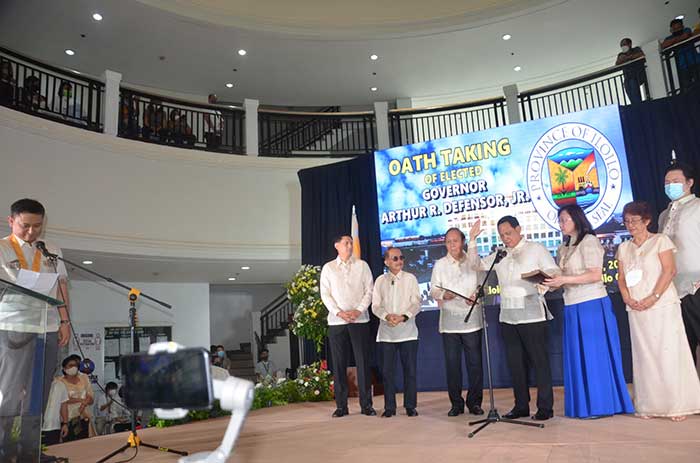 By Joseph B.A. Marzan
Iloilo Governor Arthur Defensor Jr. said the direction of his fresh mandate will focus on recovering from the slump caused by the coronavirus disease 2019 (COVID-19) pandemic.
Defensor, along with provincial board members and other municipal government officials, took their oaths of office on Tuesday before Senator Juan Edgardo Angara at the provincial capitol lobby.
In his speech, Defensor reaffirmed his social justice "MoReProgGRes Iloilo" (Movement for a Resurgent, Progressive, Globally competitive, and Resilient province of Iloilo) agenda, which he touted to be more inclusive.
He vowed to include municipal and barangay leaders in participatory conversations.
He also encapsulated five key objectives of his second term:
-Increasing investments and employment opportunities via completion and improvement and upgrading projects (Jalaur River Multi-purpose Project Phase II, Iloilo International Airport, Dumangas Port, and road infrastructure);
-Attaining food security by maximizing rice production through small irrigation projects, and other projects adding value to agricultural products;
-Providing accessible healthcare and social services to Ilonggos, including continuous improvement on the Iloilo Provincial Hospital and 12 district hospitals under the provincial government;
-Promoting public safety and protect and manage the resources and assets of the province, including improvements on disaster risk reduction and management efforts and sustaining the flagship Tanum Iloilo planting program; and
-Ensuring efficient and transparent government administrative services to provide ease to the public when transacting at the provincial capitol.
"We cannot make promises when we lay down the foundation of a new administration. But we can give direction. […] And in giving direction to the province, I will give to you and I will say to you all MoReProgGRes Iloilo!," Defensor said.
"We want to be resurgent because this administration of the province, including those of the municipalities, this is a recovering administration. We are still recovering from the pandemic," he added.
He enjoined the support of fellow provincial government and municipal government officials as the province continues its recovery from recurring health crises including the COVID-19 pandemic and dengue.
"We are in the same boat. What we can do best is to work together and take care of the boat," he added.
Also taking their oaths before Angara were Iloilo 3rd district Rep. Lorenz Defensor and Uswag Ilonggo Partylist Rep. James "Jojo" Ang.
Ang and 3rd district Board Member Jason Gonzales repeated their oaths as both were already sworn in on Monday, the former during the Iloilo City inauguration ceremonies and the latter with outgoing Vice President Leni Robredo at her office in Quezon City.
The governor, prior to Tuesday's oathtaking, also hosted other elected municipal government officials in their respective oathtaking ceremonies in his office in the past few days and weeks.