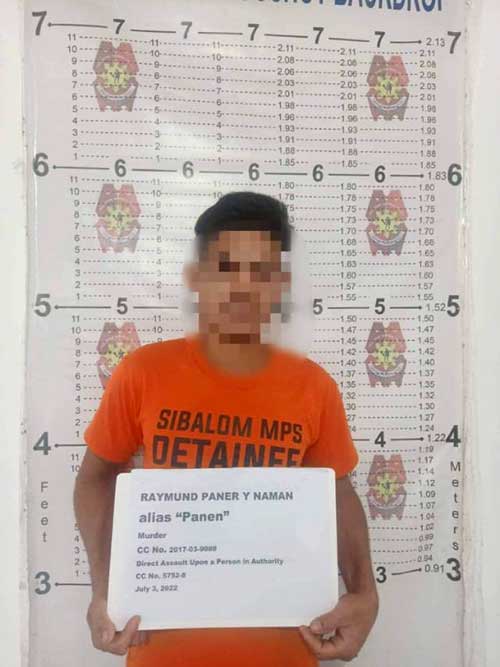 By Jennifer P. Rendon
An alleged member of the New People's Army (NPA) accused of murder several years back was arrested early morning of July 3, 2022.
Raymund Paner alias Panen, 33, a resident of Barangay Tula-tula, Sibalom, Antique was collared at Barangay Tig-amaga, Miag-ao, Iloilo.
Paner, a member of the Squad 1, Suyak Platoon of the NPA's Komiteng Rehiyon-Panay (KR-P)'s Southern Front, is listed as Western Visayas' No. 2 most wanted man.
Personnel from the Sibalom and Miag-so municipal police stations, PNP Special Action Force, 601st Company of the Regional Mobile Force Battalion 6 (RFMB-6), Antique Police Provincial Office-Provincial Intelligence Unit, Iloilo Police Provincial Office-Provincial Special Operations Group (IPPO-PSOG), 1st Antique Provincial Mobile Company, and PCG-6 led the operation.
Paner is the subject of an arrest warrant for murder in Article 248 of the Revised Penal Code docketed as Criminal Case No. 2017-03-9088 and direct assault upon a person in authority docketed as CC No. 5752-8
Judge Francisco S. Guzman of the 6th Regional Trial Court (6RTC) Branch 10, San Jose, Antique issued the arrest warrant for murder on Sep. 24, 2017.
No bail was recommended for his temporary liberty
Meanwhile, Judge Lunel J. Gabayoyo of the 2nd MCTC, Sibalom-San Remegio- Belison, Sibalom, issued the other arrest warrant in the assault charge on April 26, 2017. A P12,000 bailbond was recommended for his provisional freedom for the said case.
Major Renato Monreal II, Sibalom police chief, said the murder case was filed against Paner for allegedly killing a village councilman's father. At that time, he was not yet an NPA member and he joined the rebel group after the incident.
There were several efforts to arrest Paner but the suspect always slipped the police dragnet. He usually did not spend much time at a certain place and would again seek refuge in hinterland villages.
Monreal said they're still validating if Paner is facing other charges.
Police have yet to confirm if Paner's arrest carries a monetary reward.
The suspect is now in the custody of Sibalom PNP.