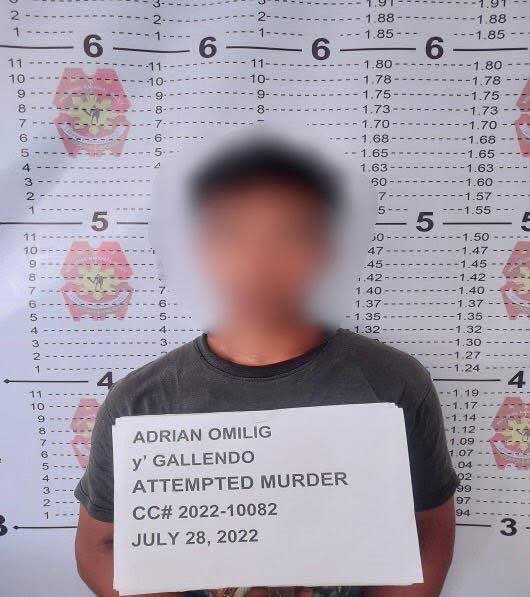 By Glazyl Y. Masculino
BACOLOD City – An alleged member of the New People's Army (NPA) wanted for the crime of attempted murder was arrested at Purok 6, Maote, Barangay Bulwangan, Hinoba-an, Negros Occidental last Thursday.
Operatives of the Provincial Intelligence Unit and Hinoba-an Municipal Police Station, along with the Philippine Army, served an arrest warrant against Adrian Omilig, with aliases "Tortor/Niko," 23, of the said village.
The warrant was issued by Presiding Judge Rodney Magbanua of Regional Trial Court-Branch 61 in Kabankalan City on February 28, 2022.
The court set a P120,000 bail for his provisional liberty.
Based on a report from Police Regional Office (PRO)-6, Omilig is an alleged squad leader of squad 2, Sentro de Gravidad Platoon of South West Front that operates in Southern Negros.
In April 2021, Omilig was involved in a clash at Sitio Yuring, Barangay Bulwangan.
According to the PIU, Omilig was also arrested after he was involved in another encounter in Candoni town in July 2021. He was detained but was later released on probation.
"Nag guwa iya warrant, amo na ginsaka namon sa Hinoba-an," according to a PIU officer, who refused to be named.
Omilig is detained at Hinoba-an Municipal Police Station and will be turned over to the court concerned.
Police Brigadier General Flynn Dongbo, PRO-6 director, lauded the operatives for the successful arrest of Omilig.
"Congratulations on this accomplishment. This speaks of your commitment in bringing law violators to answer on the offenses they've committed," Dongbo said.