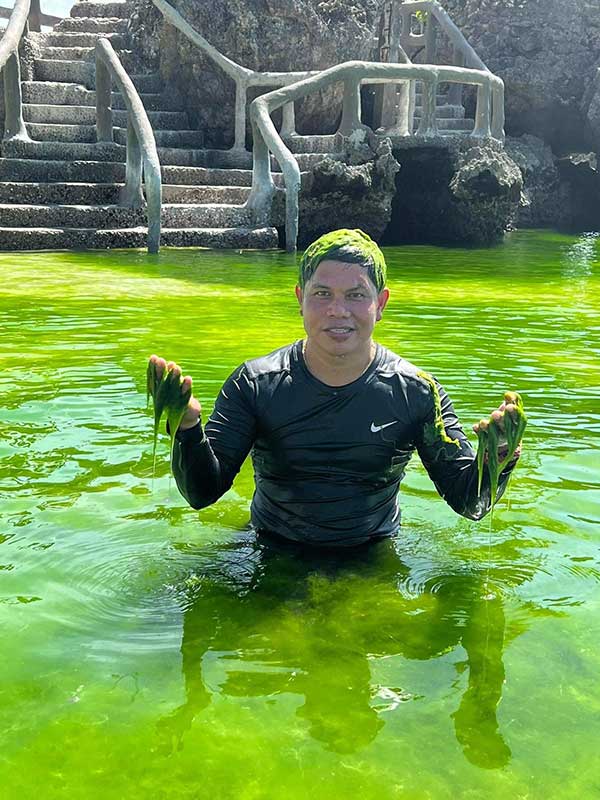 Algae or lumot that abound the world-famous Boracay Island in Aklan is simply a natural phenomenon, non-toxic, and should not be a cause for concern, according to the Boracay Inter-Agency Rehabilitation Management Group (BIARMG).
The Department of Environment and Natural Resources (DENR)-led BIARMG led by General Manager Martin Jose Despi made the clarification after photos taken by netizen Jhay-are Nabua Padilla showing algae in the waters of the famed island went viral.
"The presence of the algae is simply a natural phenomenon that occurs yearly during the dry season or summer period in different areas of Boracay. This is non-toxic and should not be a cause for concern," Despi said in an official statement issued by BIARMG last Wednesday.
According to Despi, the BIARMG through DENR-EMB Region 6 regularly conducts water quality testing in strategic stations around Boracay Island.
Official water quality report showed that the Boracay waters in front of the beach meets the required Water Quality Standards.
"The fecal coliform level in the front beach is 8mpn/100ml in January 2022 and 11mpn/100ml in February 2022. The results confirm that Boracay waters in the front beach exceptionally meet the Water Quality Standards for swimming at 100mpn/100ml," the statement added.
The BIARMG also confirmed the presence of algae in Carabao Island, a remote and commercially undeveloped island near Boracay.
Padilla, who vacationed with his family in the island last February, shared his photos of the growth of algae on the world-renowned island weeks after it reopened to tourists.
"Sumisid ako pag ahon ko may kulay na buhok terno sa tubig," he captioned his post on the group DIY Travel Philippines.
Meanwhile, the task force assured that Boracay waters is safe and clean for swimming.
"The tourists are assured that Boracay Waters is clean and safe for swimming and that BIARMG is steadfast in its mandate to provide accurate information to the public." (DG)