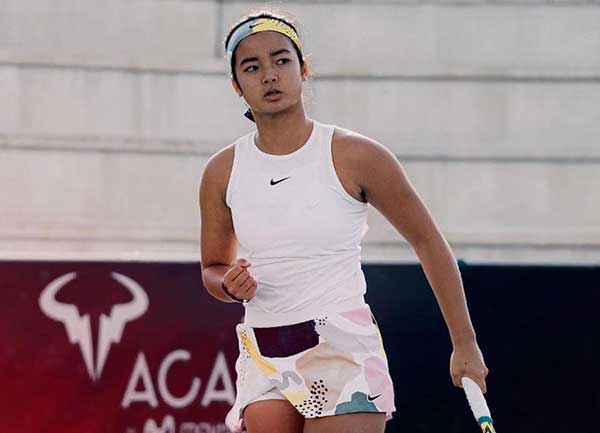 By Leobert Julian A. de la Peña
Filipina tennis sensation Alex Eala failed to advance in the first-round during the International Tennis Federation (ITF) W25 Manacor tournament, Rafa Nadal Academy World Tennis Tour in Spain.
Eala faced the tournament's no. 3 seed Giulia Gatto-Monticone from Italy and had a harsh reality check in just two sets, 6-2, 6-1.
A week ago, Eala missed a main draw qualification in the previous leg of the ITF W25 tournament when she suffered a third-round loss in the eliminations against Alice Rame of France, 6-2, 6-4.
This has been Eala's second-straight time where she missed a quarterfinal-contention after a long lay-off in joining the tournament due to several injuries.
Aside from dropping her singles match against Gatto-Monticone, the Filipina star also failed to win in her doubles stint together with her long-time partner Elsa Jacquemot of France.
The power duo of Eala and Jacquemot lost against third-seeded Olga Parres Azcoitia of Spain and Aurora Zantedeschi of Italy, 2-6, 6-4, 10-3.
Despite the loss, Eala still showed flashes of brilliance and registered spectacular down the line points against the older and more experienced Azcoitia and Zantedeschi.
The younger pair took an early 1-0 lead when they got the better of the veteran duo in the net area, instantly killing the first receive fired back by Azcoitia after a strong service from Eala.
However, the tables were turned when the more experienced pair played to their strengths and patiently volleyed against Eala and Jacquemot in the last two sets, disrupting their rhythm while at the same time breaking the fast-paced tempo they dictated in the first set.
Eala is seeking to bounce back in the next legs of the (ITF) W25 Manacor tournament, Rafa Nadal Academy World Tennis Tour and qualify in her first-ever quarterfinal appearance of the year.