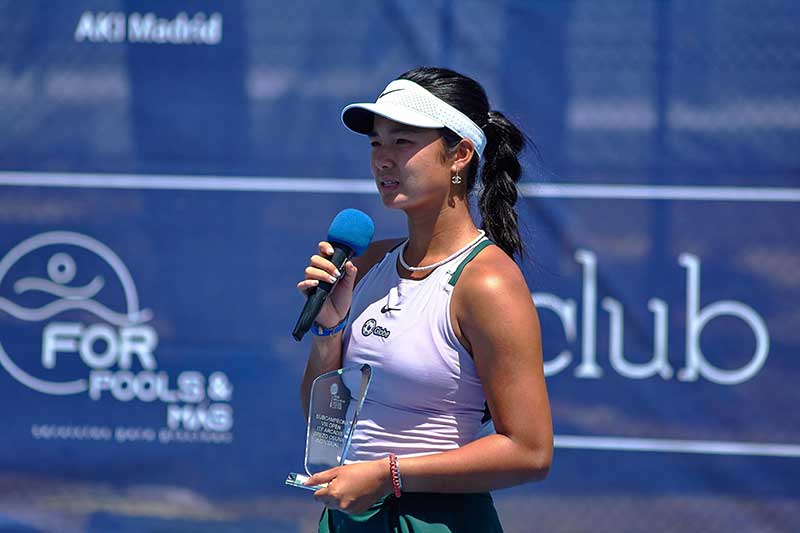 By Leobert Julian A. de la Peña
Filipina tennis sensation Alex Eala isn't done making waves overseas after jumping 54 ranks higher to earn another personal best Women's Tennis Association (WTA) world ranking.
After clinching the WTA world no. 394 rank following a stellar outing during the 2022 W25 Chiang Rai tournament held in Thailand, Eala improved to world no. 340 just this week after her tally points got updated.
Eala's grand finals participation in the Open ITF Arcardis Brezon Osuna in Madrid, Spain became the major factor in her rank improvement and will still have the chance to skyrocket in the WTA with the ITF circuit still ongoing until the end of the year.
The Rafael Nadal International Tennis Academy product snowballed her way into the ITF W60 WTA tournament but fell at the hands of the more experienced Marina Bassols Ribera in two tightly-contested sets, 4-6, 5-7.
Eala had the chance to capture the title after leading 5-0 in the second set but Ribera gathered herself and stuck to her game plan that led to seven-straight set wins that sealed the deal for her title.
Aside from a championship title in Thailand and a runner-up finish in Spain, Eala also notched several quarterfinals and semifinal appearances during the International Tennis Federation (ITF) W25 professional circuit.
Eala then marched into the main draw of the 2022 Miami Open but despite the loss, her first-time appearance also contributed more points due to the tournament's competition level.
The Filipina leftie was also coming off a bronze-medal finish during the 2022 Southeast Asian Games held in Hanoi, Vietnam, before participating again in the ITF pro circuits.
Eala will have the chance to crack into the WTA top 300 ranks this year if she grabs more championship trophies and continue punching playoff tickets for the rest of her ITF stints.