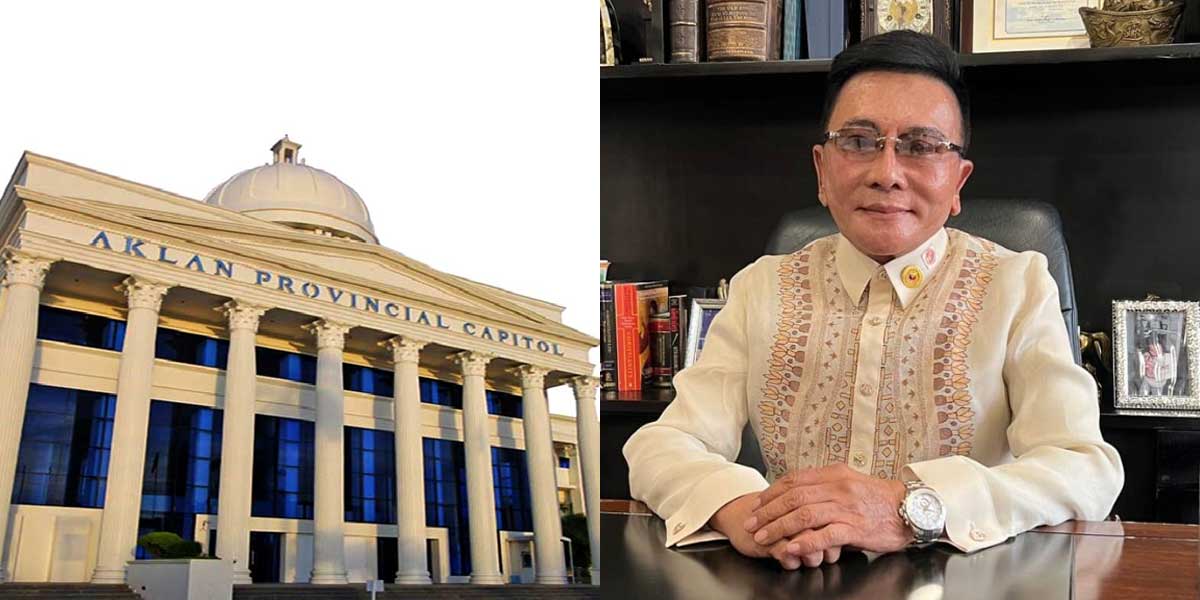 By Joseph B.A. Marzan
An Aklanon member of the House of Representatives on Thursday called out his province's Sangguniang Panlalawigan out of dismay after they declared four of his colleagues as persona non grata earlier this week over the resurrected Boracay Island Development Authority (BIDA) bill in the 19th Congress.
Representative Teodorico Haresco Jr. (Aklan-2nd) told Daily Guardian that he was disappointed with the provincial board's resolution against fellow Reps. Tsuyoshi Anthony Horibata (Camarines Sur-1st), Luis Raymund Villafuerte (Camarines Sur-2nd), Miguel Luis Villafuerte (Camarines Sur-5th), and Nicolas Enciso VIII (Bicol Saro Party-List).
The four legislators authored House Bill (HB) No. 1085, which reintroduced the proposal of a Boracay Island Development Authority (BIDA) to Congress.
The lawmaker said that the provincial legislature did so without consulting the province's 17 mayors and vice mayors, as well as other key stakeholders.
"I am dismayed and disappointed with the actions of the Sangguniang Panlalawigan of Aklan[.] There should be consultation with all the stakeholders and at least all elected officials of the 17 towns and other sectors regarding their feelings or opinions on record," said Haresco in a phone interview.
"This declaration of persona non grata, even understood colloquially, is underlying that one is a bad person. You are not welcome. I think that's going too far, because you besmirched the reputation of somebody who expresses formally an opinion, and they expressed their opinion and formally declared it in the name of Aklan," he added.
Haresco clarified that while he did not like the Sanggunian's action, he was against the BIDA bill, citing his opposition to HB No. 9826, the 18th Congress' version of the bill, which was authored by Rep. Paolo Duterte (Davao City-1st), with many others signing on as co-authors of the bill, including fellow Aklanon Rep. Carlito Marquez (Aklan-1st).
The House of Representatives approved the bill on its third and final reading, but it "died" in the Senate Committee on Tourism according to the upper chamber's website.
He mentioned that Vice Governor Reynaldo Quimpo and the members of the Sangguniang Panlalawigan then did not publicly denounce the previous Congress' bill, save for one resolution passed in February 2021 expressing their formal opposition.
"I opposed [HB No. 9826] in the 18th Congress. I was one of around 3 congress members who opposed that on record, but I opposed it in every single Zoom meet. Where were they when I was publicly denouncing it? After one simple resolution, where were they? Were they campaigning with other sectors to denounce the [first BIDA bill]? […]  Did they write to the cabinet secretaries? Did they talk to the Senators? Did anyone of them? Nobody, there was only [former Aklan governor] Joeben [Miraflores] and myself," Haresco said.
The resolution which declared the Villafuertes, Horibata, and Enciso as persona non grata in the province was authored by Aklan Vice Governor Reynaldo Quimpo and all members of the Sangguniang Panlalawigan. It passed unanimously on Monday, August 8.
But a letter dated August 3 by the four lawmakers to House Majority Leader Mannix Dalipe, which surfaced on August 9, revealed that the bill had already been withdrawn.
This withdrawal, however, did not reflect in the House of Representatives' website, stating that the bill remained pending with the Committee on Government Enterprises and Privatization since July 27.
Rep. Luis Villafuerte expressed annoyance with the resolution on his official Facebook page on Tuesday and called out the provincial board for their lack of consultation with Haresco and their lack of active lobbying against both the 18th and 19th Congress versions of the bill.
"The Sangguniang Panalalawigan members of Aklan were being too melodramatic in filing a resolution declaring me and three other [Camarines Sur] solons as persona non grata in their province—[Miguel] Villafuerte and [Horibata] along with [Enciso]—in protest over [HB No. 1085] that we had filed to create the Boracay [BIDA] as a state-run corporation to oversee the sustainable development and balanced growth of Boracay [Island]," the elder Villafuerte said on his page.
Daily Guardian reached out to Quimpo and two members of the Sangguniang Panlalawigan for more information on the resolution and the circumstances surrounding it, but they have yet to respond as of this writing.