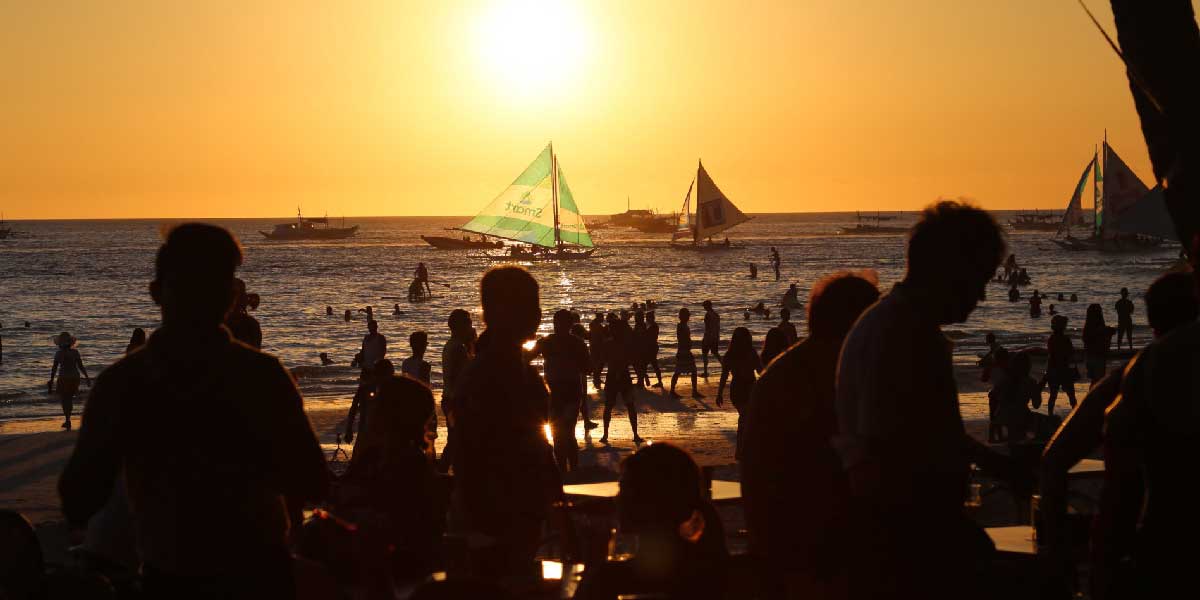 By Jennifer P. Rendon
Heads up, Boracay travelers!
Starting Jan 9, 2022, a negative reverse transcription-polymerase chain reaction (RT-PCR) test result will be required of persons traveling to Aklan and Boracay Island.
The modification is contained in Executive Order No. 001, Series of 2022 which provides "Guidelines on the Implementation of Restrictions on the Movement of Persons In and Out of the Province of Aklan as well as Protocols to be Observed under the Alert Level System for COVID-19 Response."
Governor Florencio Miraflores issued the executive order on Wednesday, Jan 5.
Atty. Selwyn Ibarreta, Aklan provincial administrator, said that for residents of Western Visayas, the negative RT-PCT test result would not be required if they would only go to mainland Aklan and would not proceed to Boracay Island.
The decision to require the negative RT-PCR test was an offshoot of the surging COVID-19 cases in the country, especially in the National Capital Region.
Under EO No. 001, all tourists and travelers entering Aklan must secure a "Quick Response" (QR) Code via the Online Health Declaration Card (OHDC).
For travelers, they need to present a negative RT-PCR test result with the date of retraction within 72 hours of travel.
They will also need to present a screenshot of the OHDC confirmation page, proof of identification as a Philippine resident, travel details, and proof of vaccination status.
For government and private authorized persons outside residence (APORs), they need to present a travel order/travel authority.
Ibarreta said the vaccination card or certification is still needed for Boracay travelers since some establishments in the island would require it.
For returning Aklanons, they must fill up the OHDC form on touristboracay.com under Aklan and attach the following;
* negative RT-PCR test result with date of retraction within 72 hours of travel;
* Notice of coordination/acceptance form municipality of destination;
* Screenshot of the OHDC confirmation;
* Philippine government-issued ID with address; and
* Travel details.
Aside from the RT-PCR requirement, the order is seen to affect the operation hours of establishments that are allowed to open.
It stated that "business establishments in mainland Aklan is allowed to operate from 5 a.m. until 8 p.m. only."
Presently, business establishments are allowed to operate from 5 a.m. to 9 p.m.
Those exempted are hospitals, pharmacies, health emergency and frontline services, media establishments, funeral and embalming services, security personnel, and public markets.
But for Boracay Island, operating hours for businesses are from 5 a.m. until 9 p.m.
It was shorter from the current 5 a.m. to 11 p.m. business hours.
Meanwhile, curfew hours in mainland Aklan will run from 9 p.m. until 4 a.m. In Boracay, it will be from 10 p.m. until 4 a.m.
Before, mainland Aklan's curfew hours ran from 10 p.m. to 4 a.m. and Boracay at 11 p.m. to 4 a.m.
Public transportation such as multicabs, jeepneys, commuter vans, and buses will be allowed at 70 percent capacity.
Motorbancas and other sea craft will also adopt the 70 percent seating capacity.
Tricycles will have four passengers, excluding the driver, while private vehicles will be allowed five persons, including the driver.
As a general guideline, intrazonal and interzonal travel is allowed. However, those below 18 years and the vulnerable population shall only be allowed access to obtain essential goods and services, or for work permitted industries and offices.
The order also disallowed the following:
* face-to-face or in-person classes for basic education, except those previously approved by the Inter-Agency Task Force and/or Office of the President;
* contact sports, except those conducted under a bubble-type set-up
* Funfairs/peruse and kid amusement industries;
* Venues with live voice or wind-instrument performers and audiences;
* Casinos, cockfighting and operation of cockpits, horse racing, lottery and betting shops and other gaming establishments; and
* Gathering in residence with individuals not belonging to the same household.
Under the order, there will be establishments that would be allowed at a maximum of 30 percent indoor capacity and 50 percent outdoor venue, provided that on site workers of these establishments are fully vaccinated against Covid-19.
These include:
* venues for meetings, incentives, conferences and exhibitions (MICE);
* Permitted venues for social events;
* Visitors or tourist attractions such as libraries, museums, parks, plazas, and the likes;
* Amusement parks or theme parks;
* Cinemas and movie houses;
* Limited face-to-face or in-person classes for higher education and for technical vocation education and training;
* In-person religious gathering; gathering for necrological services, wakes, inurnment, and for those who died of causes other the Covid-19 and for the cremains of the Covid-19 deceased;
* Licensure or entrance/qualifying examinations administered by their respective government agency, and specialty examinations authorized by IATF;
* Dine-in services in food preparation establishments;
* Personal care establishments;
* Fitness studies, gyms, and venues for non-contact exercise and sports;
* Recreational venues such as Internet cafes, billiard, billiard halls, amusement arcades, bowling alleys, and similar venues;
* Water sports activity like scuba diving, helmet diving, banana boat ride and the likes; and
* Film, music and television production.