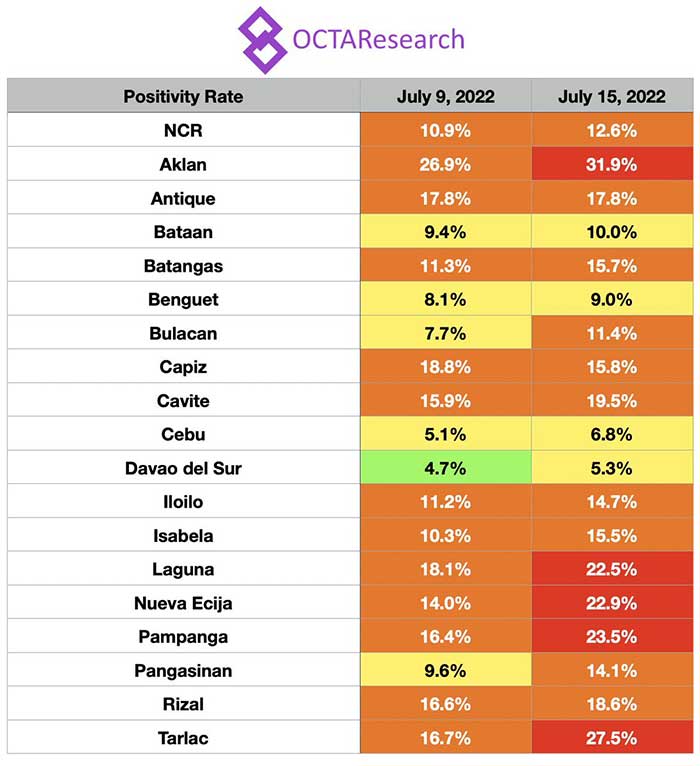 By Sean Rafio
Aklan was one of five provinces in the country that have registered "very high" or more than 20% COVID-19 positivity rate, Octa Research said Sunday.
In a tweet, OCTA Research fellow Dr. Guido David showed data that Aklan's positivity rate increased from 26.9% on July 9 to 31.9% on July 15.
Positivity rate is the percentage of people who test positive for the virus out of all those tested. The World Health Organization has set a positivity rate benchmark of below 5% for at least two weeks for countries or regions to reopen.
The Department of Health (DOH) Center for Health Development in Western Visayas reported an additional 16 cases of COVID-19 on Saturday, bringing the total number of active infections in Aklan to 176.
Other provinces seen surpassing the 20% benchmark are Tarlac (27.5%), Pampanga (23.5%), Nueva Ecija (22.9%), and Laguna (22.55%).
"In provinces where the positivity rate is very high, i.e. above 20%, the public is strongly advised to practice necessary caution to prevent COVID infection," David said.
Meanwhile, Antique, Capiz, Iloilo, Bataan, Bulacan, Cavite, Isabela, Pangasinan, and Rizal all recorded a positivity rate of over 10%.
Nationally, the country's positivity rate is at 9.5 percent, the Department of Health said last week.
The Philippines on Saturday registered 2,578 new COVID-19 infections, the highest daily tally since February.
Despite the influx of COVID-19 infections, the DOH said that all areas in the country are still at "low risk" as severe and critical infections, as well as the average daily attack rate, are low.