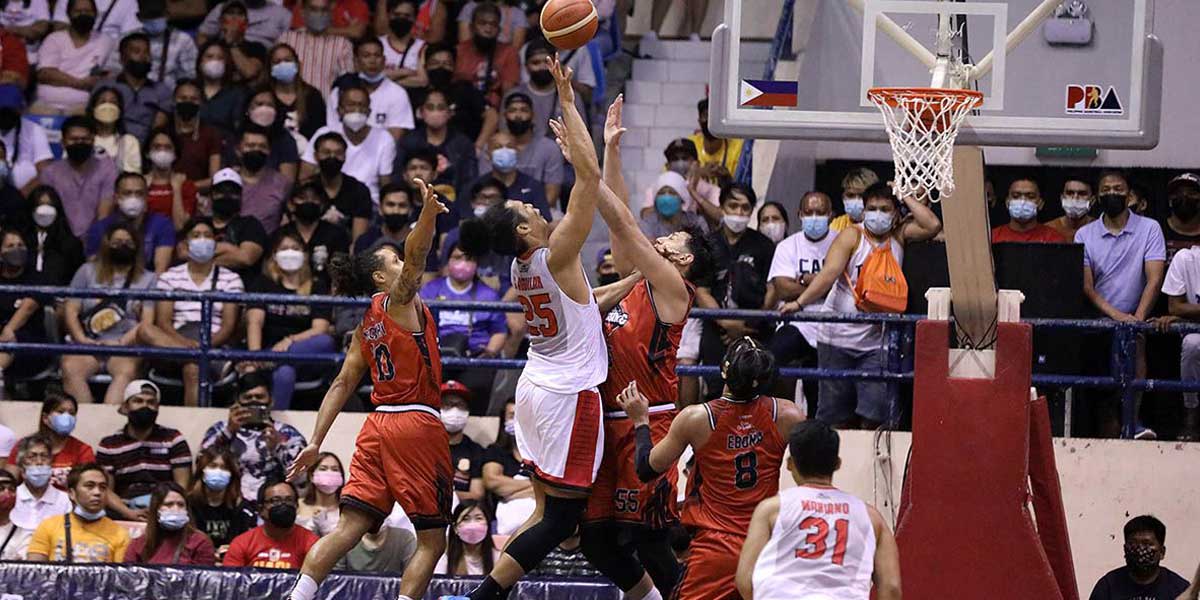 By Leobert Julian A. de la Peña
The Barangay Ginebra San Miguel showed veteran steadiness and poise under pressure after escaping the resilient Blackwater Bossing squad, 85-82, in the ongoing 2022 PBA Philippine Cup.
Ginebra's superstar big man Japeth Aguilar delivered the finishing basket after sinking the mid-range jumper with 10 seconds left in the ball game to give his team the lead, 83-82.
It was a terrific start for the Gin Kings as swingman Arvin Tolentino was waxing hot from the three-point territory and drained three straight from downtown, pushing their lead to nine with two minutes remaining in the first quarter.
However, Rashawn McCarthy's personal offensive run sparked Blackwater and helped them stay within striking distance for the rest of the first half.
Veteran point guard Baser Amer and scoring machine Joshua Torralba then started to contribute for Blackwater and countered every Ginebra offensive run.
It was during the third quarter that Torralba caught fire and torched the entire Ginebra team. With Blackwater down by a point at the 5:38 mark of the third quarter, the crafty shooting guard converted a smooth side-step layup to help them regain the lead.
After his conversion, Torralba then unloaded two-straight three-pointers to extend Blackwater's lead to five, 57-52.
James Sena then picked up where Torralba left off and scored seven-straight points off two post-moves and a shot from downtown that put Blackwater in a favorable position heading into the final canto with a six-point lead.
Blackwater continued its offensive onslaught in the fourth quarter and kept their seven-point lead not until the fifth-minute mark when the Gin Kings flipped the switch and executed their sets to perfection.
Down 76-69, Christian Standhardinger played hero ball for Ginebra and went on a 6-0 run to give his team the first taste of the lead again, 77-76, since the fifth-minute mark of the third quarter.
Ginebra would build a three-point lead with two minutes left in the ball game but Torralba's clutch back-to-back baskets put them ahead again, 82-79, and turned the game into a tug-of-war with a minute remaining.
Aguilar then iced the game with his clutch jump shot while the returning Stanley Pringle gave the finishing touches after sinking both of his free throws in the end game.
It was another valiant fightback from the Blackwater squad after coming off a momentum-boosting win against the TNT Tropang Giga and are now 1-1 in the conference while Ginebra grabbed their first win and went up 1-0.