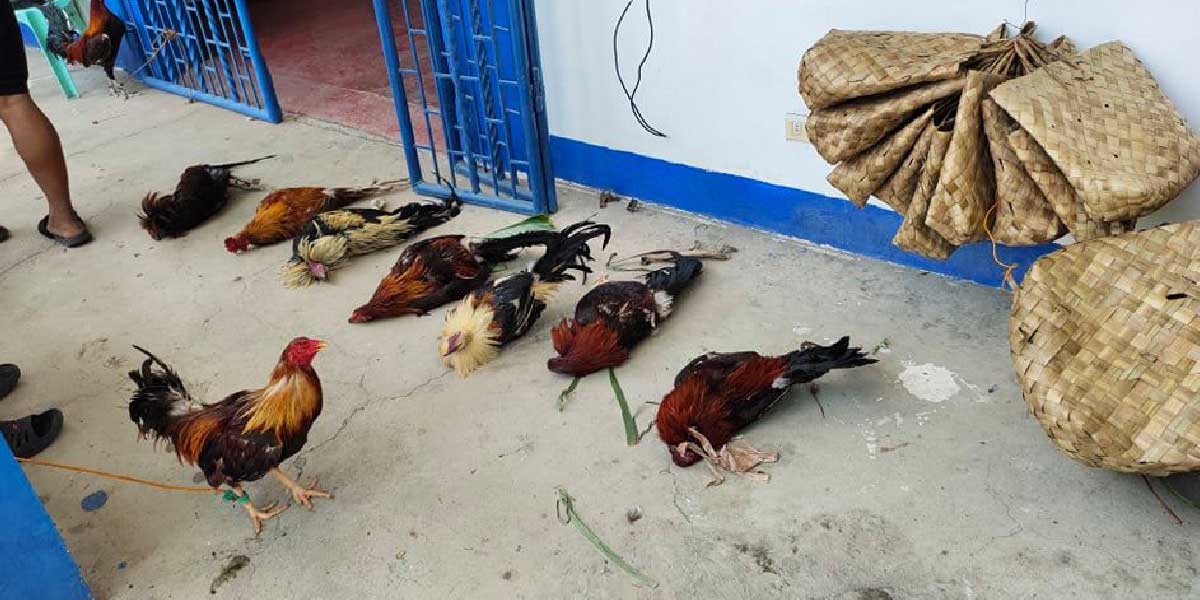 By Jennifer P. Rendon
Remember the policeman who was arrested for lawyering for a van driver who was caught violating the liquor ban?
Well, he was caught anew, this time for allegedly joining an illegal cockfight.
Last year, when the region was still in the thick of the enhance community quarantine (ECQ), Staff Sergeant Jose Digcabo-on, Jr. hogged the limelight after he was caught over a liquor ban related offense.
Almost a year later, Digcabo-on is back on the headlines after he was arrested, along with three other persons, for engaging in an illegal cockfighting activity.
Members of San Joaquin Police Station arrested their fellow police officer around 12:30 p.m. of April 4 at the hinterland village of Torocadan, around 20 kilometers away from the San Joaquin proper.
Also collared were Jolly Seat Sealza, 55, and Rogelio Servandil, 55, both of Barangay Matambog, San Joaquin; and Paul Panganitan, 20, of Barangay Siwaragan, San Joaquin.
Lieutenant Dionisio Estacio, San Joaquin police chief, said other cockfight enthusiasts were able to flee.
The area where the cockfight happened could not be accessed by four-wheel vehicles.
"That's why, it was a surprise for us when we learned that a policeman was one of those who took part in the illegal activity," he said.
It appeared that Digcabo-on, 43, a resident of Barangay Nam-o Norte, Miag-ao, did not try to flee.
"Maybe, he was thinking na hindi siya huhulihin," he said.
There was no need for Digcabo-on to identify himself as the local police already knew him.
Recovered from the scene were three live and seven dead fighting cocks, 20 native bags, and P1,950 cash bet.
'CODDLING' A LIQUOR BOOTLEGGER
Digcabo-on was one of few policemen charged for defying guidelines on liquor ban related offense.
Assigned to the Regional Personnel Holding and Accounting Unit (RPHAU), he was accused of "lawyering" for a van driver who was caught transporting boxes of liquor at the quarantine control point (QCP) at Barangay Nanga, Guimbal, Iloilo around 4:40 p.m. of May 20, 2020.
Police accounts revealed that members of Guimbal Police Station manning the QCP area flagged down a shuttle van driven by Leo Faldas, 47, a resident of Zone 4, Barangay Boulevard, Molo, Iloilo City.
Patrolman Boston asked Faldas to present his travel pass and IATF (Inter-Agency Task Force) sticker, but the driver failed to present any.
Boston then asked the driver to open the shuttle van but another motorist, who was later known as Digcabo-on, approached the duo.
He identified himself and told Boston, "Indi pagbuksi sarge kay iya na ka grupo."
But Boston stood his ground and did not heed to the senior policeman's plea.
They later discovered that the shuttle van was loaded with 60 boxes of Tanduay Rhum.
Both Digcabo-on and Faldas were arrested and detained at Guimbal Police Station.