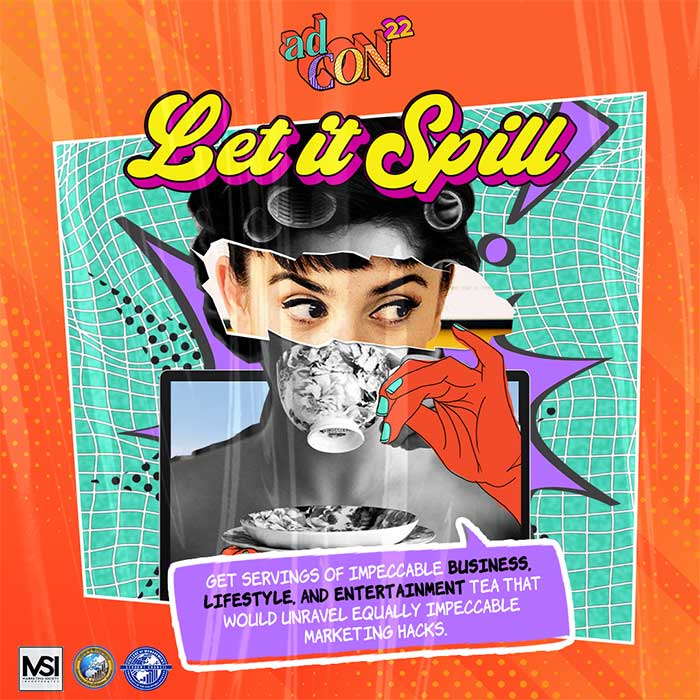 Advertising Conference (AdCon) is an annual marketing convention organized by senior BSBA Marketing students at the University of the Philippines Visayas in cooperation with the College of Management (UPV CM), Marketing Society Incorporated (UPV MSI), and College of Management Student Council (CMSC). Originally named Advertising Camp (AdCamp) until 2017, AdCon has been imparting invaluable insights, inspiring and groundbreaking perspectives, and driving transformative actions consistently for over two decades through idea-focused, science-based, and pragmatic plenary talks by field experts and professionals.
After a 2-year hiatus, ADCON makes a sensational comeback with the theme "Spill The Tea: Reinventing Experiences by Unraveling Marketing Psychology Hacks." ADCON will come out in the open this year, featuring brave, unfiltered discussions about the psychology behind marketing in three of the biggest and most intriguing fields: Business, Lifestyle, and Entertainment!
On top of that,  AdCon22 will officially host THREE virtual events.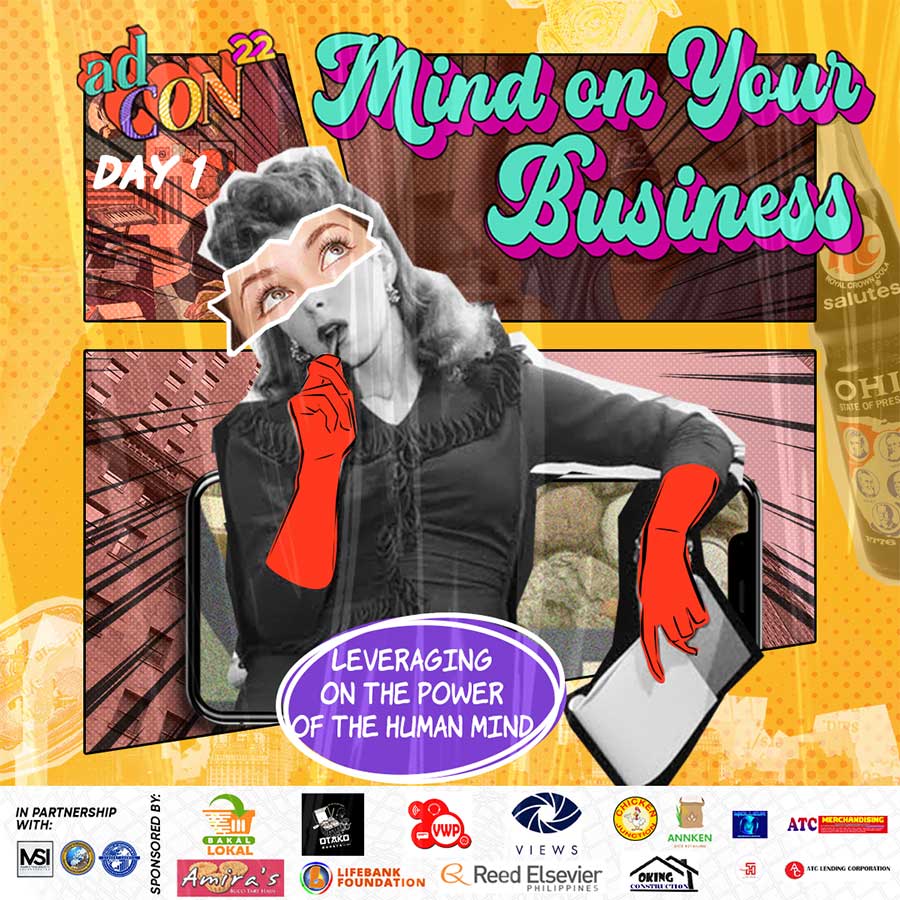 Day 1: Business
AdCon22 Day 1 kicked off the conference on April 23, 2022, by focusing on the ever-dynamic and competitive business landscape with the theme: Mind on Your Business: Leveraging the Power of the Human Mind. AdCon22 Day 1 featured an exclusive look at E-commerce budol tactics, post-pandemic marketing strategies, and unusual (but viral) storytelling through a scientific and psychological approach granted personally by experts from industry giants.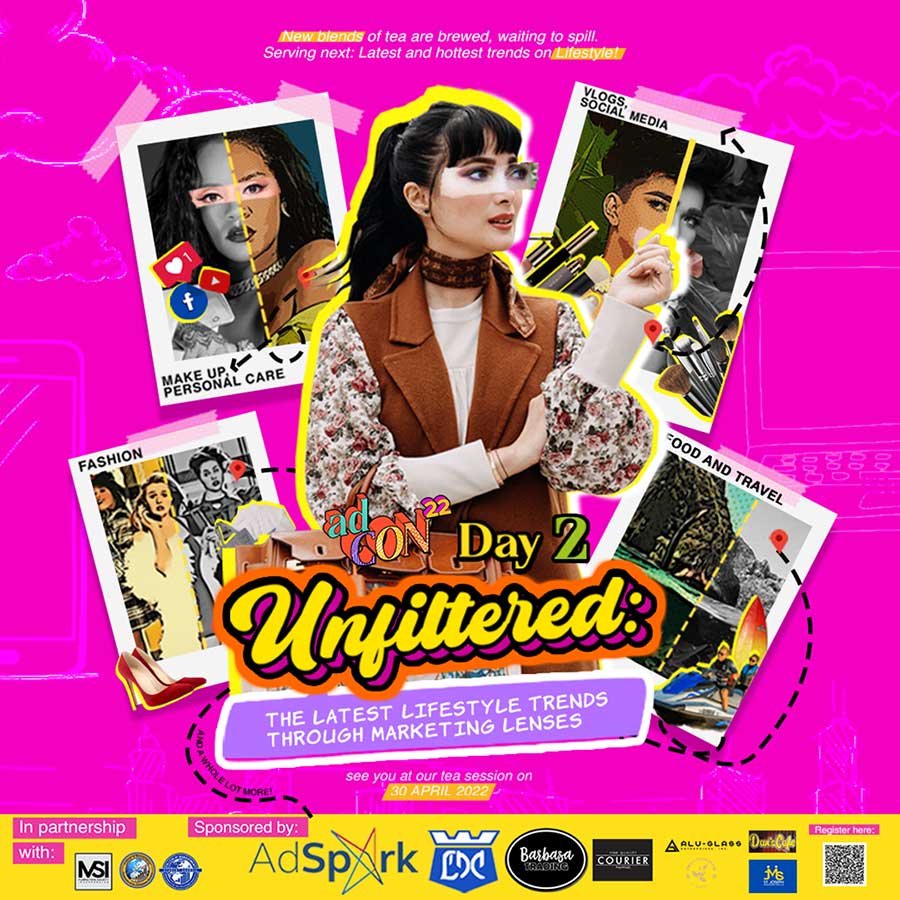 Day 2: Lifestyle
AdCon22 Day 2 is set to take place this Saturday, April 30, and will discuss how celebrities, influencers, and other public figures navigate their picture-perfect lives in pursuit of becoming their best selves. With the official theme: UNFILTERED: The Latest Marketing Trends Through Marketing Lenses,  AdCon22 Day 2 will dissect today's lifestyle trends and secrets from the most distinguished speakers from fashion, travel, and beauty & care industries.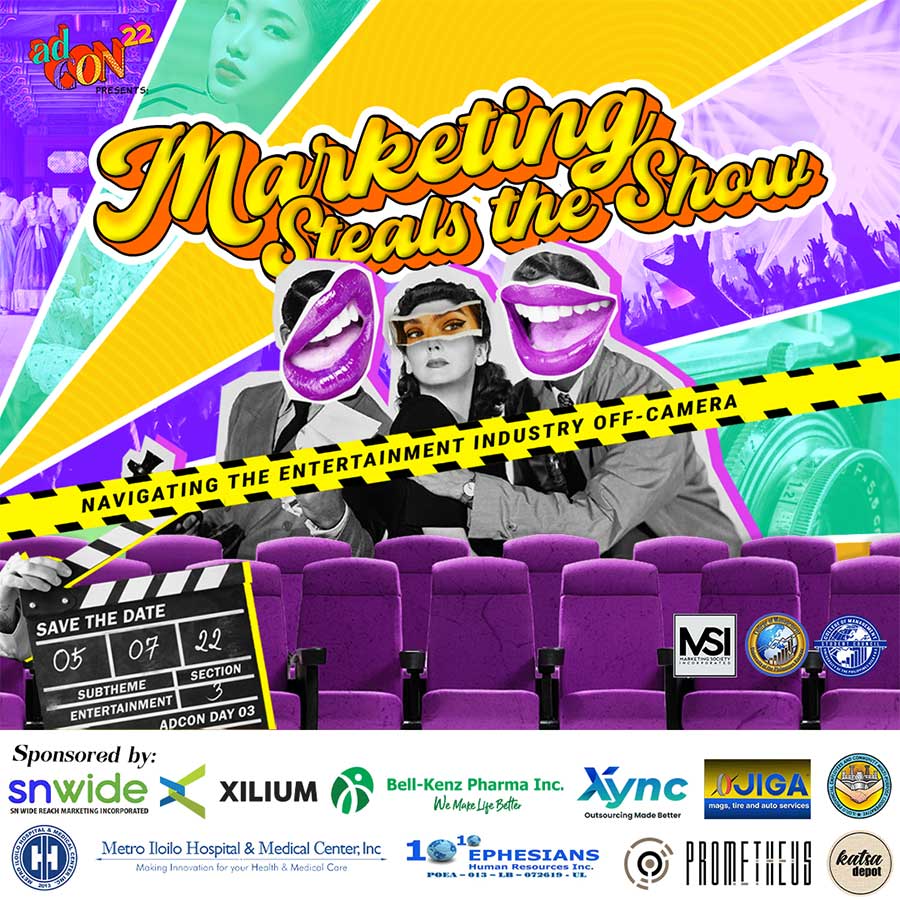 Day 3: Entertainment
Finally, AdCon22 Day 3 will delve into the heartwarming and controversial aspect of life – entertainment, with the theme Marketing Steals the Show: Navigating the Entertainment Industry Off-Camera. AdCon22 Day 3 on May 7, 2022, welcomes everyone to witness experts on Korean culture, Philippine music, and celebrity love teams delve into the psychology and marketing behind the Entertainment industry's starstruck success.
To make this year's event a more meaningful experience, 20-25% of AdCon22's profits will go to three beneficiaries:
Chameleon Association Inc. Philippines;
Tuloy Aral Walang Sagabal (TAWAG) Project for Children with Special Needs Iloilo; and
Friends of Cancer Kids Iloilo Foundation, Inc. (FCKIFI).
AdCon is  open to students, professionals, and business owners nationwide for the first time as it officially transitions into an interactive webinar this year. Registration for AdCon22 is ongoing with a per-day rate of Php 200, but all three days will only cost Php 500! More tea for a lesser fee! Register here now: https://forms.gle/bEffYmKDcAesgsd7A