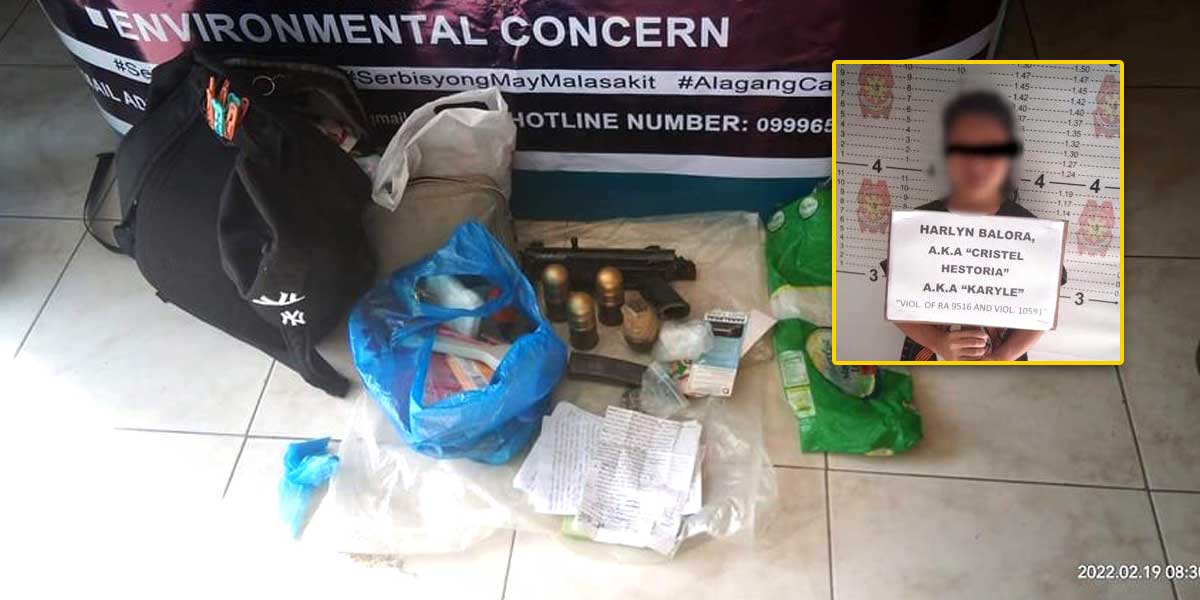 By Glazyl Y. Masculino
BACOLOD City – Police are preparing charges to be filed against a youth peasant organizer of Anakbayan Negros, who was allegedly caught inside a house with an alleged high-ranking official of the New People's Army (NPA) in Barangay Camang-Camang, Isabela, Negros Occidental on Saturday.
Police Captain Joseph Partidas, town police chief, said that charges for illegal possession of firearm and ammunition, illegal possession of explosives, and violation of the Commission on Elections (Comelec) gun ban will be filed against Harlyn Balora with aliases "Karyle" and "Cristel Hestoria", 26, of Libertad here.
Partidas said that Balora was allegedly at home when police and military troopers
served an arrest warrant for homicide against Romeo Nanta alias "Juanito Magbanua."
Acting Judge Walter Zorilla of the Regional Trial Court Branch 56 in Himamaylan City issued the warrant on Feb. 3, 2021, according to the police.
But Nanta was able to escape when he ran into the woods, while Balora, who was reportedly the regional chairperson of Anakbayan Negros, was cornered by the law enforcers, according to Partidas.
Police then reportedly sighted Balora in plain view with a .9mm (Luger MOD TEC KG9) semi-automatic pistol loaded with a live ammunition, a KG9 magazine loaded with eight live ammunition, three pieces of CTG 40mm, HEDP M433 explosives, a fragmentation grenade, personal belongings, and several "subversive documents."
Partidas said Balora, who is detained at Isabela Municipal Police Station, did not respond to police when questioned.
Following Balora's arrest, the Kabataan Partylist Negros condemned what they called an "illegal arrest" against a legitimate youth organizer.
The group alleged that at least 500 state forces conducted the operation against Balora, ransacked eight houses of the civilians, and tortured a peasant, who owned the house where Balora stayed for the night.
In a statement, the group said Balora devoted her time organizing and learning among the peasant masses.
"She is not a terrorist, as what state elements would surely call her out to be. Instead, she bravely answered the call of the times: to serve the people," the group said.
Thus, the group called for the immediate release of Balora and the dropping of all "trumped-up" charges against her.
"Activism is not a crime. For as long as there is injustice, it is only just to resist," the group said.
Partidas said they already expected the reaction, but he maintained that their operation was legitimate.
"Kung may iquestion sila, sa court na lang pag na file na ang kaso," the police chief added.
Meanwhile, Colonel Inocencio Pasaporte, commander of Army's 303rd Infantry Brigade (IBde), said that Balora could be linked to the NPA because he was with Nanta when the operation was conducted against the latter.
"Te ngaa abi upod mo si Juaning (Magbanua)?" Pasaporte asked, saying that Balora could be one of the staff of Nanta, who was identified by the Army as alleged spokesperson of a rebel group under the name of "Juanito Magbanua," and commander of the Regional Operations Command.