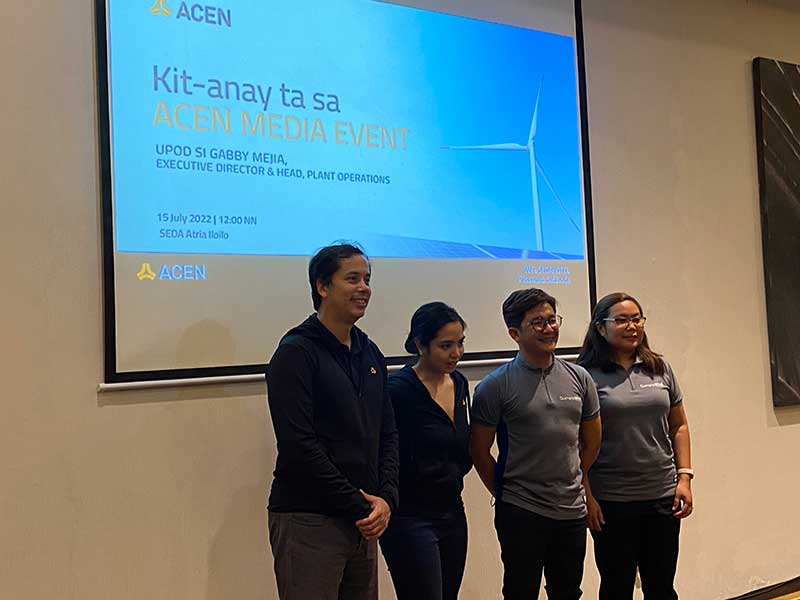 By Joseph B.A. Marzan
Ayala Group's *ACEN, formerly AC Energy,* aims to make a mark in the power sector and local communities through its long and short-term goals in energy, which it coupled with community projects in the immediate vicinities of its power plants.
ACEN Executive Director and Plant Operations chief Gabino Ramon Mejia said that the company focuses on three areas: climate change, biodiversity, and the circular economy.
He cited the 7th of the 15 Sustainable Development Goals (SDGs) of the United Nations, Affordable and Clean Energy, as one of the main thrusters of ACEN's current programs.
He likewise cited the Securities and Exchange Commission's reportorial requirement for stock exchange-listed companies in relation to SDGs compliance.
"What is exciting for us, aside from the compliance side, we are really doing everything as part of our sustainable thrust to do something on the social and environmental side of things," Mejia shared.
"There is a line of sight between our goals and the SDGs. We have three focus areas as to how we look at the environment, the first is climate change, second is biodiversity, and third is the circular economy or resource efficiency," he added.
Mejia shared that the company's long-term goal was to become a 'net-zero' company by 2050, ensuring zero percent emissions of greenhouse and other environmentally-hazardous gases.
Aside from that, their short-term goal is to be 100 percent renewable by the year 2025.
"All of these is really for the next generation. We can no longer reap the benefits in our generation. We at ACEN try to contribute with our different plants in Visayas and Luzon," he said.
One of their projects in the region include the 27-hectare Guimaras Wind arboretum project in Sibunag, Guimaras in collaboration with the Department of Environment and Natural Resources (DENR) and local and barangay government officials.
This is complementary to their 625-hectare forest done through a lease agreement with the DENR in Ilocos Norte, which now has 527,000 trees planted since 2015, eyeing to plant 1 million trees in 2025 without harvesting.
Another project is a newly developed honey bee farm in Cadiz City, Negros Occidental in partnership with a people's organization, which they hope to become a success story.
This is in addition to their agri-voltaic project, making use of their solar-powered plants in Negros Island for agricultural purposes, by planting eggplants and lettuce within the vicinity of the plants.
Components of this project include seeds and seedlings, as well as trainings for maintaining, harvesting, and marketing the vegetable products.
He also mentioned that the produce may possibly soon find their way to markets owned and operated by ACEN's sister company, Ayala Malls.
"The one benefitting from that is the community, because they are the ones taking care, they are the ones who are harvesting, and they are the ones who sell them at the market to sell those produce. So, it's not necessary for them to own land, because [ACEN] land is the one they will use," he shared.
Circular economy projects include conversion of plastics into hollow block components through their power plants in Ilocos Norte and Laguna in partnership with a green technology company.
Mejia also shared that in compliance with the SDGs and national government edicts, ACEN is optimistic that power prices would be lower with renewable energy resources.
He mentioned that the Department of Energy, under its Green Energy Auction Program, has decreased the price of wind power to around P5 pesos per kilowatt hour and P3 per kilowatt hour for solar power.
"As we move forward toward this renewable revolution, we would be able to see prices of technology going down versus fossil [fuels] because [it] is a finite resource. It's not only because it isn't environmentally friendly but also because it will be more expensive," he said.
ACEN currently maintains 4 renewable energy facilities in Western Visayas, including solar power in the cities of La Carlota and San Carlos and Manapla town in Negros Occidental, as well as the Guimaras Wind Farm in San Lorenzo, Guimaras.
The wind farm was one of the properties obtained by the company after its acquisition of PHINMA Energy in 2019.
*ACEN also has wind farms in Bangui and Pagudpud, Ilocos Norte, and solar energy projects in various provinces across Luzon.