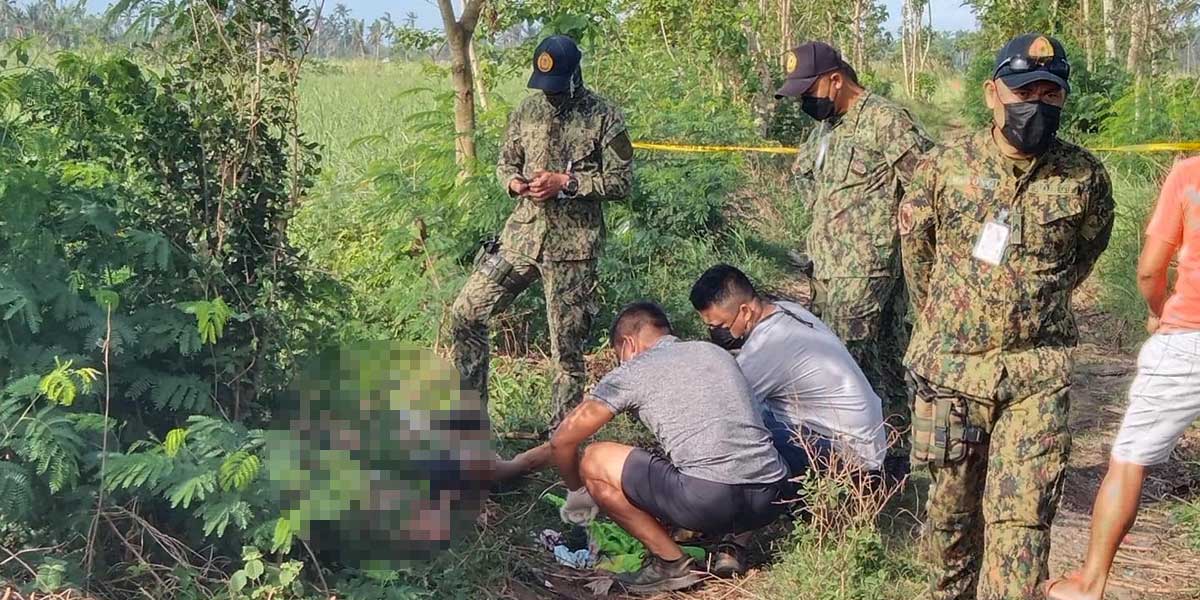 By Glazyl Y. Masculino
BACOLOD City – A police officer assigned as investigator of Police Station 5 here was found dead in Barangay Pilar, Hinigaran, Negros Occidental yesterday.
The victim was identified as Police Corporal Nestor Madelo, 37, of Barangay Punta Taytay here.
A former barangay tanod found Madelo in a secluded area of the village.
According to Police Captain Ryan Villasario, Hinigaran police chief, Madelo suffered a wound on the left portion of his face and some bruises on his body.
Villasario said they initially did not find any indication of foul play, but upon further investigation, they discovered that Madelo may have been a victim of a road accident.
This development came after Madelo's companion, who was driving the cop's multicab, went to Police Station 5 early that day and reported that they figured in an accident.
Villasario said Madelo's companion initially told the police that the accident happened in Bago City, but he later made another statement that it occurred in Barangay Sum-ag here, which was confirmed by the police.
Villasario said that Madelo's companion, who was initially considered as a person of interest, turned out to be a suspect in the incident.
Madelo's companion, whom police refused to name pending the investigation, was inconsistent with his testimonies. In fact, some of his statements were limited and misleading, the police chief added.
Villasario said that Madelo and his companion hit a truck loaded with sugarcane in Barangay Sum-ag, after coming from a drinking session with some relatives.
However, they could not figure out why the suspect left Madelo in Hinigaran town and drove the multicab at their residence.
"Ngaa kung wala siya may ginatago, ngaa gn tago or bilin niya ang biktima sa layo-layo na lugar, wala niya gin dala sa hospital?," Villasario asked.
Villasario said they are still gathering pieces of evidence to determine what really happened.
Villasario said they are investigating if the incident was planned or intentional or if it was merely just an accident.
"Wala man daw siya (suspect) akig sa biktima kay miguhay man sila," he added.
Villasario said the suspect may face charges for reckless imprudence resulting in homicide, or may face other charges depending on the progress of the investigation.
Villasario said the victim was previously involved in robbery extortion here in 2015.
The victim, who was a jail officer in Police Station 2 at that time, was arrested by the Criminal Investigation and Detection Group (CIDG) for allegedly extorting money, along with his two other colleagues, from an inmate during an entrapment operation inside the station. He was relieved from his post at that time.
Meanwhile, in La Castellana town, a man was also found lifeless in a mahogany plantation at Hacienda Grande, Barangay Robles last Friday.
Police identified the victim as Harold Tingting, 40, of the said village.
Police Captain Rhojn Darell Nigos, town police chief, said Tingting was naked when found in the area.
Nigos said the victim's hands were tied with a black t-shirt, while his neck was tied to a mahogany tree with a pair of blue pants.
Recovered from the scene were a black belt, jacket, wallet, and pork barbecue inside a plastic.
Nigos said the victim was last seen alive on the evening of Jan. 20, when he visited a wake.
He was believed to be suffering from a psychological problem, the police chief added.
"Upon looking at the crime scene, there's a probability na may foul play, considering the situation of the victim," Nigos said.
How can a person do that na ihigot liog niya kung kamot niya nakahigot man. Big question man sa amon. He was totally naked, he added.