By Isza Zerrudo
There is an intimacy between sun views and coffee, one punctuated by fleeting conversations and (if you prefer) sweets; a hubbub of people and their lives; and lounge music about letting go and letting love.
The intersection of these moments find themselves in a little nook at the outskirts of Iloilo City. Motivated by a community of homebrewers, two kids found their way to an old pizza shop in Cagbang, Oton.
"We were stuck at home, we love coffee, we're part of online communities of coffee lovers– hello, Coffee Home Brewers and Brew Iloilo Philippines!, and we had an opportunity to revamp an old pizza shop in our neighborhood," Alahna Sam Sy moved out of the metropolitan bustle of Manila and transferred back home to start a long-time dream.
"With just our pour-over equipment, homebrewing experience, and deep, deep love for coffee and the community, we took a chance and started offering our brews to whoever wishes to drop by or stay for a little bit," Sam shared about what is now Neighbor Coffee.
AS A NEIGHBOR
True to the name, the cafe carries an unassuming air reminiscent of post-siesta hours spent at a next-door patio. The neighbors are kind and eager. They readily bring out their drinks and food. You are here not just for the refreshments, but for the company. To complete the vibe, Neighbor Coffee is a 100% family-ran business.
Sam is marshalled at the brewing counter by her spirited cousin, Pierre Angelo Macarol, otherwise known as PA. Together they make for unforgettable cups that bring customers back again and again. And the secret ingredient?
"Our coffee selection isn't something out of the ordinary. In fact, you can easily make them at home! Which got people thinking: why bother?"
Sam and PA even readily teach how to brew coffee (given it's not peak cafe hours). Even as a regular, I find it hard to fathom how they draw in people with coffee that anyone can make (even 9 year olds). If there's any secret to their coffee, it's probably one that is readily told.
"While most cafes in the (Iloilo) city offer espresso-based coffee, Neighbor Coffee takes pride in the art of manual brewing. Each cup takes longer to prepare for sure, but it's something our customers and regulars have been accustomed to — and appreciate, even," Sam shared.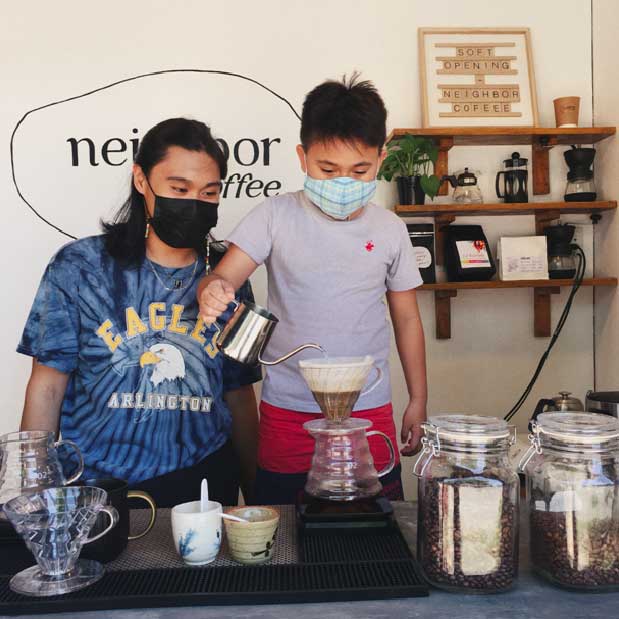 AS A FAMILY
The thoughtful brewing minutes are easily offset by delectable sandwich meals prepared by another cousin, Jana Karla Calantas, and Sam's mom, Josephine. Their Chicken Ranch and Tuna Melt are the perfect pair for any cup.
The rest of their "crew" is another relative, Janice and Cagbang neighbor, Lilia. Their hospitality reminds anyone of a visit to their favorite tita.
While business in our post-pandemic landscape often grows slowly, Sam and PA had other concerns.
"Even [when we started] with only 5 coffee-based drinks and 1 grilled sandwich, we were able to pull in people from different places and keep them coming back," Sam remarked.
The support was sincere and overwhelming.
"In just one week, we were able to turn the small area beside the shop into an outdoor seating. And now, we would also set up additional tables and chairs in front of the shop to accommodate more people," she added.
There is no hesitation in their voice when they talk about the pros and cons of their place. The roadside noise and occasional glaring sun made Sam and PA doubt the appeal of their location.
But somehow, they kept drawing in people who'd take a 30km bike ride for a sweet and strong Cagbang brew, social media influencers braving the sun for a beautiful "coffie" with in-demand Spanish Latte, and regulars living anywhere but near to Neighbor Coffee putting in an extra mile for some Orange-ade or iced Specialty Coffee.
There is something utterly genuine about why you'd make your way to Neighbor, something akin to feeling like you are home.
AS A COMMUNITY
Sam and PA intend to make their mark, not just among customers, but in their neighborhood.
Living up to a vision of providing sustainable livelihood for small-time businesses, Neighbor Coffee gets their crowd favorite puto flan, sweet and woodsy cinnamon roll, and unique cream cheese pan de coco from different home bakers in Cagbang and other towns. They are flavors you won't easily find elsewhere.
Come Valentines, they turned their love for coffee into a heart for the community with pay-it-forward coffee. For every P300 purchase, they prepared one free cup of black coffee that may be availed by local pedicab drivers and handymans. With the positive reception, it was a system made to stay with just a donation of P40 per cup.
"I've read about it [pay-it-forward coffee] years ago and thought it'd be a great way to support the community. After all, coffee is not just a drink, but a chance to recharge and reflect before taking on the day," Sam said.
However, donations or not, they readily established giving free coffee to Cagbang residents every 7am, which would usually be vendors and drivers about to head to work.
When local delicacy sellers come strolling around, Neighbor Coffee welcomes their products as "special and limited" items for the day. So, there are times when ibos, puto, chocomoron, and other Filipino favorites made by locals are on the menu.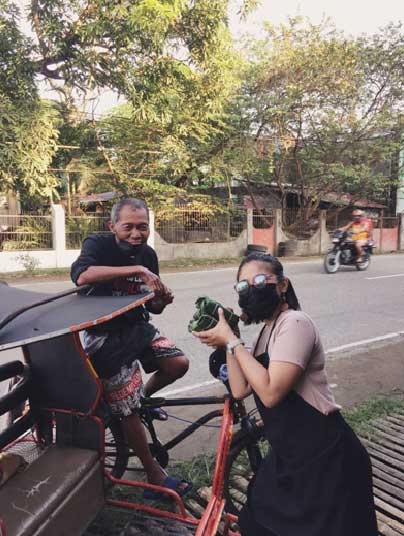 AS SLOW COFFEE IN AN IDLE TOWN
The commitment to a purpose-driven enterprise colors the cafe nicely. It boasts of dreamy sun views (sunrise and sunset, as they are open from 7am to 6pm), creamy coffee hues, rustic and locally crafted furniture, invigorating greens and dried blooms, vehicles from all kinds of roads, people from all walks of life, and stories from all over the world. There is an authenticity that beckons you to pause and take in this quaint space.
From Sam's own notes, she wrote:
It's affordable coffee, that's true, but it's not the most convenient. It's a thirty-minute drive from the city, there's no AC installed, and the heat can be intense.
But, we had a hunch. That when you go to Neighbor, you're not just coming for the coffee. You're there for the whole thing: the experience, the community, the chance to take in life slowly — one sip at a time.
Sam is also a Social Strategist for a digital agency serving purpose-driven brands. PA is a second year college student taking up Information Technology. And they're ready to brew for you!
Check out and follow Neighbor Coffee:
Facebook – https://web.facebook.com/neighborcoffee.ilo
Instagram – https://www.instagram.com/neighbor.coffee/