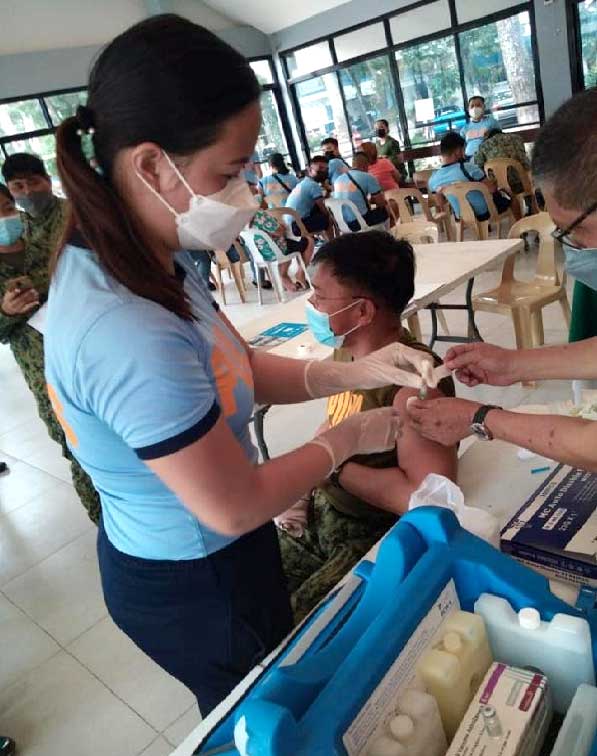 By Glazyl Y. Masculino
BACOLOD City – The Bacolod City Police Office (BCPO) reported on Wednesday that 1,078, or 92 percent, of its 1,169 personnel were already vaccinated against the coronavirus disease 2019 (COVID-19), as of August 10, 2021.
BCPO records indicated that 34 police commissioned officers, 998 police non-commissioned officers, and 46 non-uniformed personnel have been inoculated with different brands of vaccines against COVID-19.
The vaccination was held at the BCPO headquarters and in other vaccination centers here. It was administered by the team of police nurses under the supervision of the Emergency Operations Center (EOC), and the City Health Office (CHO).
Police Colonel Manuel Placido, BCPO director, in coordination with the EOC spearheaded the initiative, considering that policemen are also one of the frontliners in the fight to manage the spread of COVID-19 in the city.
Placido, in a statement, expressed his gratitude to the city government for allocating vaccines for the BCPO personnel.
With most of the BCPO personnel getting vaccines, cases of COVID-19 infection among cops here is expected to be minimal.
Placido is also hoping that this initiative can help minimize the spread of the virus in the community here.