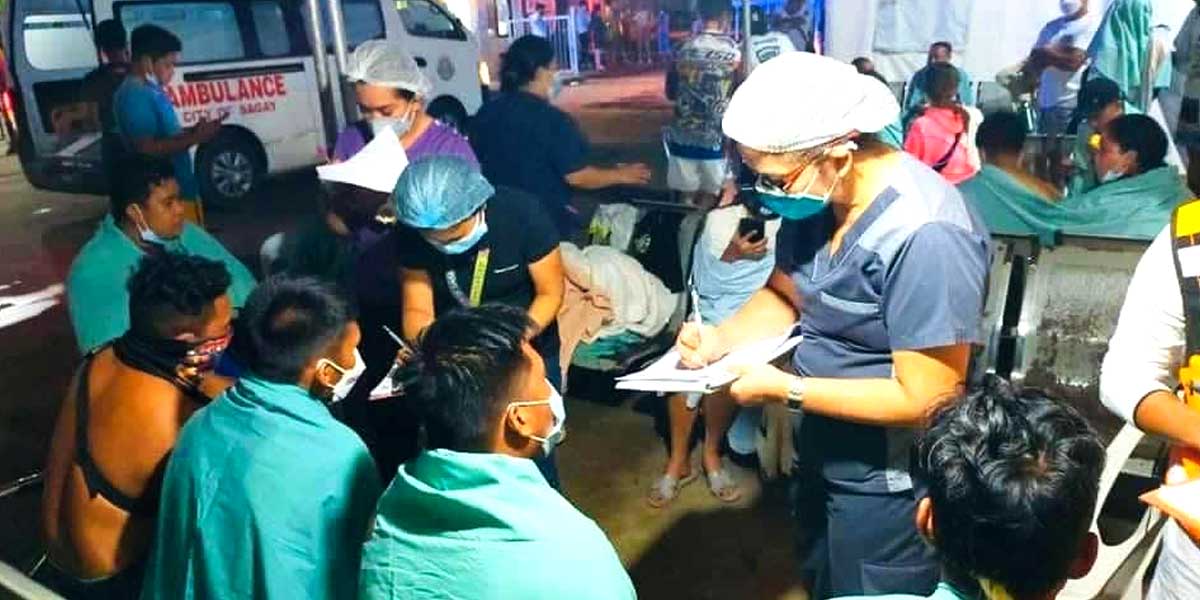 By Glazyl Y. Masculino
BACOLOD City – Forty-five individuals who are members of the Negros Brotherhood Riders Club were rescued after their boat capsized in the waters of Sagay City, Negros Occidental on Sunday night, according to the City Disaster Risk Reduction and Management Office (CDRRMO).
One of the victims called for rescue on social media as he went live on Facebook showing their situation while they were partially submerged in the waters.
The incident came several hours after a motorized banca loaded with 10 passengers also capsized off the coast near the boulevard at the San Carlos City proper due to big waves triggered by localized thunderstorm.
According to Commander Joe Luviz Mercurio, head of Philippine Coast Guard (PCG)-northern Negros Occidental, the San Carlos City incident may be considered isolated.
But he noted that the boat was not authorized to carry passengers as it was just considered a service boat.
Mercurio said the passengers crossed from Sipaway island to the mainland when they experienced turbulent conditions causing the boat to capsize.
A 68-year-old woman, who was saved from drowning, was taken to the hospital after she suffered an elevated blood pressure and difficulty of breathing. All passengers were safely rescued.
During the Sagay incident, Mercurio said that 56 individuals managed to cross the mainland to the Molocaboc island.
Of the 56, 14 were left stranded along the sandbar, while others were rescued by three boats.
Mercurio said the boat capsized off the waters along Cervantes and Molocaboc island between the said city and Escalante City.
Mercurio said that several boats reportedly illegally transported passengers from the mainland to Molocaboc island. Thus, an investigation was conducted.
Mercurio said that both incidents had no reported casualties, despite the risk.
Following these incidents, Mercurio said he directed substation commanders to invite boat operators for a proper investigation.
He also advised the public to preserve safety at all times.
"Our safety is our primary responsibility as a responsible person," Mercurio stressed, as he urged the public to avoid chartered boats which are not authorized to carry passengers from one point to another because they have no safety devices and equipment.
"Illegal na, it is presumed unsafe kay wala macheck sang concerned agencies ang safety," he said.