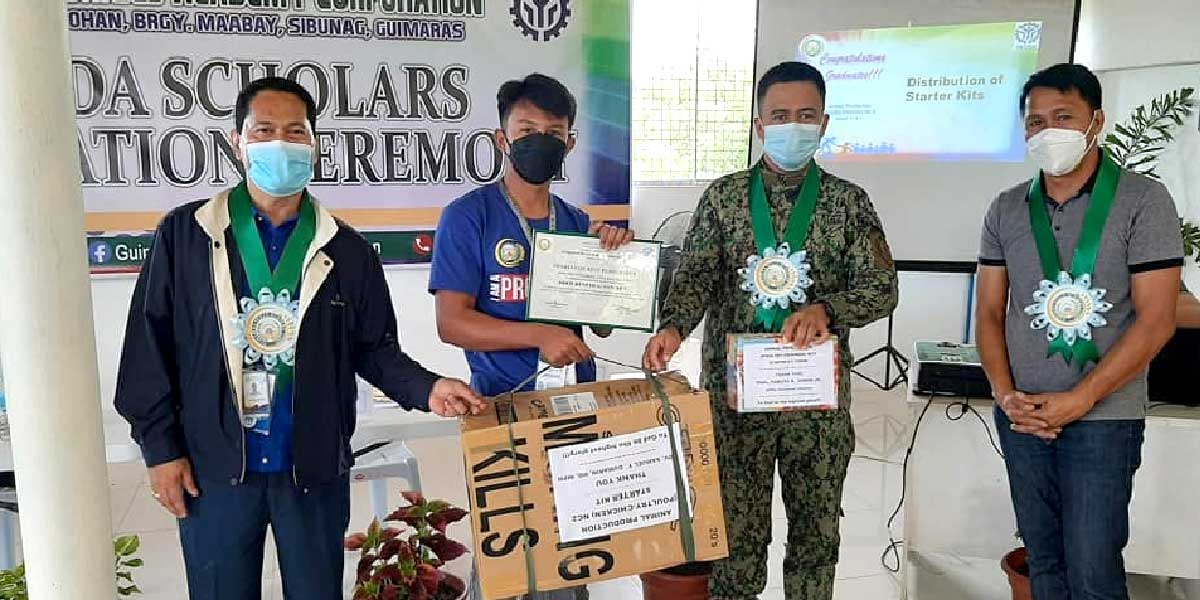 Forty-three Guimarasnons, mostly displaced workers from the five municipalities in the province, received Animal Production (Chicken Egg Production National Certificate (NC II) from the Technical Education and Skills Development Authority (TESDA).
Each beneficiary also received 5 layers chicken egg starter kits from the Provincial Government of Guimaras and starter kit feeds from Guimaras Police Provincial Office director Police Colonel Pablito Asmod, Jr. during the graduation ceremony held last August 10, 2021 at Maabay, Sibunag, Guimaras.
The training was held last June 4 until July 16, 2021 in the aim to provide alternative livelihood to the displaced workers in the province, capacitate them on proper chicken feeding and nutrition and provide them with starter kits (layer chickens).
Dr. Alejandro Araneta, Provincial Administrator and Ms. Elena Quezon of the Provincial Economic Development Office (PEDO), represented Governor Samuel T. Gumarin.
Ms. Quezon highlighted that it is the desire of the Provincial Government that displaced workers can bounce back from the effect of the COVID-19 pandemic.
She assured that the Provincial Government of Guimaras (PCG) will continue to provide livelihood trainings to alleviate the burden of the displaced workers.
Police Col. Asmod said that he is thankful for the opportunity to help the Guimarasnons who have lost their livelihood due to the current health crisis.
He said that the beneficiaries can use the kits as a start-up business especially during this pandemic. He also assured the recipients that the GPPO will continue to support and assist the livelihood initiatives of the Province.
The activity was made possible through the collaboration and efforts of the PGG, (TESDA) Guimaras, Guimaras Skills Academy Corporation (GSAC), and GPPO in partnership with the local government units of Sibunag, Buenavista, Jordan and San Lorenzo.