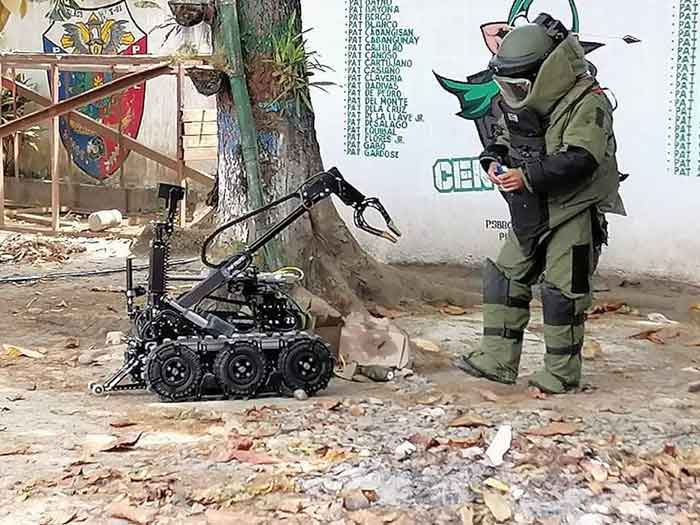 By Glazyl Y. Masculino
BACOLOD City – At least 30 policemen from various police stations in Western Visayas trained on Basic Explosive Ordnance Disposal (EOD) Course at the Regional Training Center (RTC)-6 in Barangay Mansilingan here last Friday.
According to Major Gary Allan Resuma, head of the PNP-Explosive Ordnance Disposal (EOD)-6, it is important to train the police as they could be first responders to any incident related to explosion if there's no immediate EOD team.
Part of the training was the familiarization of the MKIII EOD robot, the newest additional sophisticated equipment to the PNP.
The equipment is remote controlled and was borrowed by the RTC-6 from EOD-7 for the said training.
There are six MKIII EOD robots in the Philippines, four of which were donated by the Canadian government, while two others were procured by the PNP. Each costs P17 million.
Resuma said the robot can examine a subject suspected of being an explosive. It has a camera for the operator to check the terrain and situation surrounding the subject, and it can climb stairs up to the third floor.
The robot can also dismantle parts of a bomb, as it has a high-pressure water cannon disruptor which initially destroys the electronic and mechanical parts of the Improvised Explosive Device (IED) before its final destruction.
It is also equipped with a portable X-ray machine that can identify or examine the type of bomb.
Resuma said the equipment is a big help to bomb experts as it can prevent them from danger because they will no longer have a direct contact with the explosives.
Resuma said that it is vital for police to learn new technology since bomb makers also have upgraded their technology to commit terrorism.