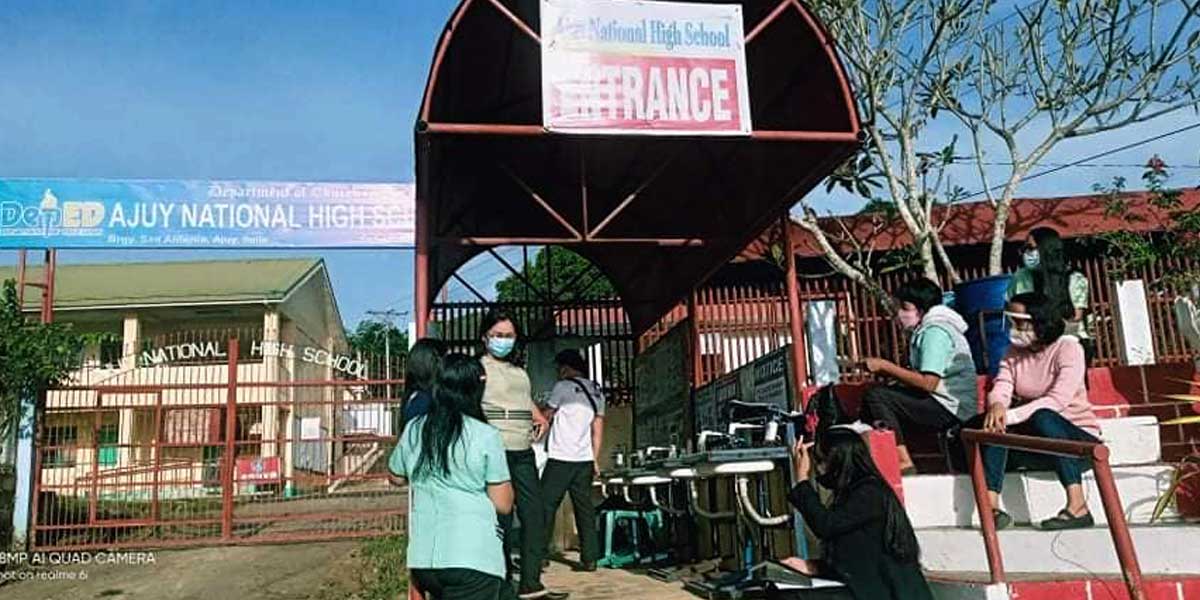 By Jennifer P. Rendon
Sixteen teachers of Ajuy National High School who refused to be vaccinated against COVID-19 were barred from entering the campus on Monday, Jan 3, 2022.
They were prevented from physically reporting to work citing a government order which banned unvaccinated on-site workers to render duty.
And for Lyvi Alfin, Principal 3 of Ajuy National High School, it's nothing personal as he was merely implementing an order from the DepEd central office.
"I'm just an implementor. This is an order sa central office down to the division. I just follow the order whatever is required. I don't prohibit anyone from entering the campus, provided they could present their vaccination card or if they don't have, an unexpired negative RT-PCR (reverse transcription-polymerase chain reaction) result," he said.
Alfin told Zarraga News Live that DepEd Division Office issued Memorandum Order No. 270 dated Dec. 13, 2021 on the "IATF vaccination requirement for personnel reporting on-site."
It was addressed to the assistant schools division superintendent, chief education supervisor, public school district supervisor, principal in-charge, and of the heads elementary, integrated, and secondary schools.
The order cited DepEd Task Force COVID-19 Memorandum Order No. 575 dated Dec 7 relative to the vaccination requirement of personnel reporting on site based on latest guidelines of the IATF.
The order particularly cited the guidelines outlined in IATF Resolution Nos. 148-B and 149.
Under IATF Resolution 148-B issued on November 11, 2021, "on-site workers are required to be fully vaccinated."
On-site workers who remain to be unvaccinated should not be terminated but must take RT-PCR tests "regularly at their own expense."
IATF Resolution No. 149 cited that partially vaccinated employees tasked to do on-site work are not required to take regular reverse transcription-polymerase chain reaction (RT-PCR) tests.
By regular, it should be done once every two weeks.
The order should have taken effect Dec 1. But in the case of DepEd-Iloilo, the memorandum was relayed only on Dec 13.
Alfin said he posted the order on their private FB page on Dec. 16.
Since they went on Christmas break on Dec 20, he clarified that the order will be implemented on Jan 3, 2022.
"I also sent a message through our group chat," he said. It was coupled with an explanation and the details of the order.
Alfin said he clearly stated that to gain access to the campus, teachers, faculty, and staff should bring their vaccination card or their negative RT-PCR test result.
"We don't discriminate but we encourage. The government asked us to get vaccinated. If you chose not to get vaccinated, just simply submit your negative RT-PCR or antigen test," he said.
Alfin clarified that even if a person claimed to be vaccinated but forgot to bring or present his vaccinated card, he or she must still comply with the memorandum.
Even parents or guardians who would get the modules of the learners must also present a vaccination card or a negative RT-PCR test result, if they are unvaccinated, before entering the campus.
Ajuy National High School has 117 teachers, faculty, and staff. Only 17 were not fully vaccinated. One of them was allowed to enter the campus after presenting a negative RT-PCR result on Monday.
If the teachers would still choose to remain unvaccinated and still cannot present a negative RT-PCR rest result, Alfin said they will designate teachers to handle the learners.
Amid the plea of his teachers, Alfin said he was not remiss of his duty and gave the teachers the opportunity to comply.
"We are government employees and we must be obedient to law and the government's policy," he said.
'UNCONSTITUTIONAL'
Just like others who chose to remain unvaccinated, Jocky Fundal, one of the 16 teachers who was prohibited from entering the campus, claimed that the order for mandatory vaccination is unconstitutional.
He did not cite a specific law, however.
Fundal only claimed that as a teacher, he did his own research and asked some lawyers about it.
He said they have their own reasons why they did not get the Covid-19 jab.
"Bal-an ta naman nga maski vaccinated or unvaccinated ka, maka-acquire ka, maka transmit ka sang virus. Ti ngaa kami lang ya nga unvaccinated ang magpasa? Daw oppressed kami. Bal-an ta man ang laye mo. Teachers man kami mo. Masakit sa amon part nga pero bal-an man namon na nga way na nila nga magsugot kami sa ila plano kag gusto," he said.
(Even if you are vaccinated or unvaccinated, you could still acquire and transmit the virus. Why is it that only the unvaccinated like us would present (the negative RT-PCR rest result)? It seems that we are being oppressed. We know the law. We're teachers. That's painful on our part. We know that it's their way for us to submit to their plan.)
Fundal said some of his fellow teachers could not help but cry over what happened because they wanted to serve.
At their salary, he said they couldn't possibly shoulder a regular RT-PCR test.
"Indi kami against sa vaccine pero lawas namon ni mo. Bag-o kami mag-take, ma research kami anay kung ano na ang effect sa amon lawas. Magpa-vaccine ka, sige-sige na na ah. Kita mo may booster naman," he said.
(We're not against the vaccine but this is our body. Before we would take anything, we also did our research on what could be the effect to our body. If we choose to get vaccinated, it would not end there. You see, there's already a booster shot.)
GOING SPIRITUAL
Fundal said he's not afraid of anyone because they are only afraid of God.
If there's anyone whom he would like to please, it's God, he added.
"Pagusto kamo sa lawas niyo, pagusto man kami sa lawas namon. Kag ang lawas naton templo na sang Ginoo. Indi na pagtanduga ang templo sang Ginoo nga gina-istaran sang Holy Spirit, ni Jesus Christ," he said.
(You could do whatever you want with your body, we could do whatever with ours. Our body is the temple of Christ. So, don't touch the temple of the Holy Spirit.)
Fundal's female co-teacher also cited spirituality as one of her reasons for not getting vaccinated.
"The Holy Spirit told me that this vaccination is not just demonic but satanic," the teacher said.
As such, if something happened to her, she has no other person to blame but herself, as the Holy Spirit has already warned her about it.
A science teacher, she claimed that she resorted to what she knew about science and research.
"This is just experimental," he said.
The teachers, though, claimed that they understand Alfin and are not against the school administration.
"We don't rebel. We don't plan to go against the DepEd," they claimed.
The female teacher said they only wanted the Dep-Ed Division office, or even the DepEd central office, to intervene.
She also called on President Rodrigo Duterte to hear their plea.