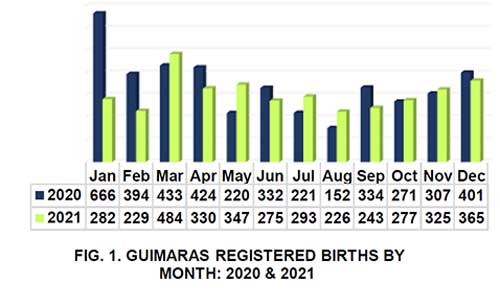 Guimaras registered an average of 15 live births per day in 2021, lower than the 17 live births per day in 2020, according to the Decentralized Vital Statistics System (DVSS) of the Philippine Statistics Authority (PSA) Guimaras.
The 2021 registered live births at 3,676 was 11.5 percent lower compared to 4,155 in the previous year.
In 2020, higher registered live births were reported in January with 666, followed by March (433), April (424), and December with 401 registrants.
"In 2021, however, March recorded the highest live births registered at 484 followed by December, May, and April with 365, 347, and 330 registrants, correspondingly," Provincial Statistics Officer, Nelida B. Losare said.
The town of Jordan reported the highest live births registered in 2020 at 2,594, which accounted for 62.4 percent of the provincial total.
Nueva Valencia registered 1,000 live births or 24.1 percent of the total and Buenavista with 503 registered live births or 12.1 percent. San Lorenzo and Sibunag contributed the least at 1.0 and 0.4 percent, respectively.

"Jordan Municipality showed a decrement of 7.56 percent in 2021 over its 2020 level, but despite the decrease still it contributed the largest share of 65.2 percent to Guimaras province with 2,398 registered live births translating to an average of 10 registrants per day," Losare said.
"Next to Jordan is the municipality of Nueva Valencia with 619 live births chipping in 16.84 percent, followed by the municipality of Buenavista with 612 live births accounted 16.65 percent," Losare added.
Losare also stressed that registered female live births outnumbered males in both years (2020 and 2021), with a gender gap of 5.1% and 4.3%, respectively.
She also expounded that more female live births were registered than males in both years except for San Lorenzo which is male-dominated with a gender gap of 10.0% in 2020 and 25.9% in 2021, the largest gender gap observed in 2021 or a sex ratio of 59 females to every 100 males.
"Registered live births in Sibunag, Buenavista, Nueva Valencia, and Jordan were female-dominated with a gender gap of 20.0%, 15.0%, 7.9%, and 0.8%, correspondingly," she said.
Losare explained that the 11.5 percent decrease in the number of registered live births in 2021 signals the effectiveness of the Municipal Civil Registrars' (MCRs) strategy of conducting mobile registrations in every barangay giving priority in remote and island barangays.
"The MCRs are now bringing government service closer to the people moving towards the fulfillment of the Civil Registration and Vital Statistics (CRVS) decade goal that by 2024 no one should be left behind, unregistered. Live births registered include late registration," she added.