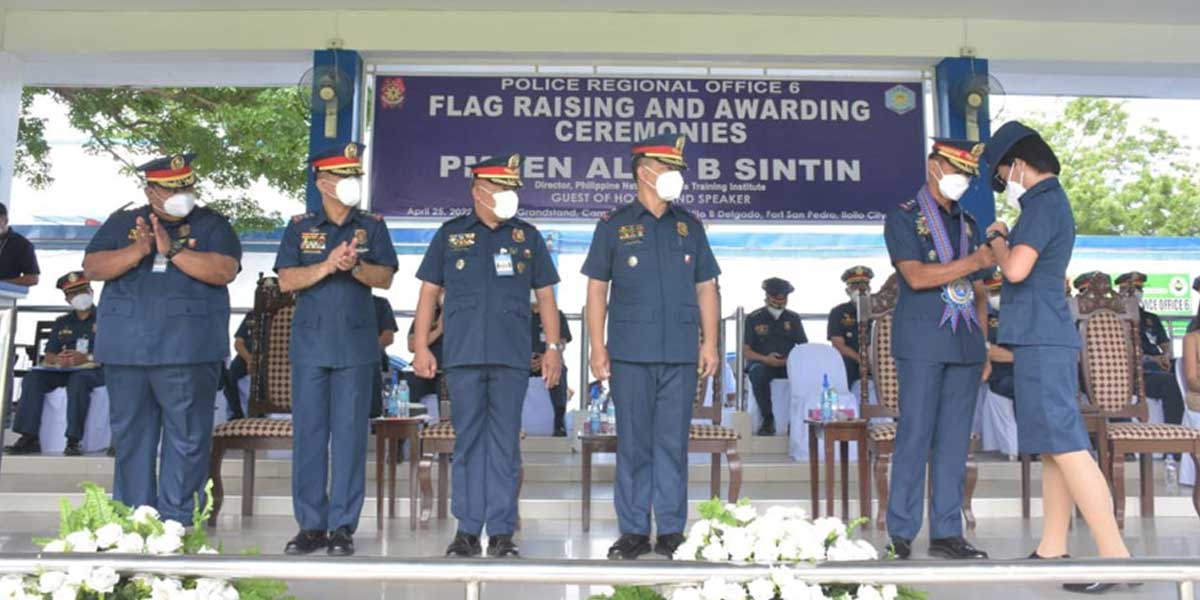 By Jennifer P. Rendon
Fourteen police in Western Visayas were cited for demonstrating commendable performance to duty.
The Police Regional Office 6 (PRO-6) formally recognized its personnel during its flag raising and awarding ceremony on Monday, April 25, at Camp Martin Delgado, Iloilo City.
Major General Alex Sintin, Philippine National Police (PNP) Training Institute director and the activity's guest of honor, pinned the medals to the awardees.
The roster of awardees include Lieutenant Colonel Lowell Garinganao and Staff Sergeant Arres Ardeño of La Carlota Component City Police Station; Major Ritchie Gohee of Bacolod City Police Station 9; Captain Elmer Bonilla and  Corporal Sandy Espares of Bacolod City Police Station 7; and Lieutenant Edward Bolivar and Staff Sergeant  Normie Villaverde of Bacolod City Police Office – Drugs Enforcement Unit.
They were recipients of the PNP Merit Medal (Medalya ng Kagalingan)
Garinganao and Ardeño were cited for the arrest of Eljohn Dueñas, the No. 1 most wanted person in Negros Occidental, on April 2, 2022.
Gohee, Bonilla, Espares, Bolivar, and Villaverde, were recognized for the successful conduct of separate buy-bust operations in their areas of responsibility.
Meanwhile, the PNP Commendation Medal (Medalya ng Papuri) was awarded to Lieutenant Colonel Edel Jose Manzano and Staff Sergeant Nelgin Bermejo of Bacolod City Mobile Force Company; Lieutenant Merriefin Carisusa and Staff Sergeant Mark Erwin Mabilog of Makato Municipal Police Station; Lieutenant Fritz Padrocillo and Staff Sergeant Ace Kenneth Mental of Bugasong Municipal Police Station.
All of them conducted operations that resulted in the arrest of wanted persons.
The PRO-6 leadership also bestowed the PNP Efficiency Medal (Medalya ng Kasanayan) to Lieutenant Colonel Herman Celiz Jr. and Staff Sergeant Efijenia Poticar of the Regional Operations Division for ranking number 1 nationwide in compliance with the PNP Drug Related Data Integration and Generation System Individual Commanders Evaluation Rating of the Directorate for Operations for the month of February 2022.
Sintin has commended the awardees for their "dedication to duty is more than that of what Police Regional Office speaks, doing beyond what is required by the organization is something a remarkable task, but always remember that hard work never goes unnoticed."